Sir Elton duets with Humperdinck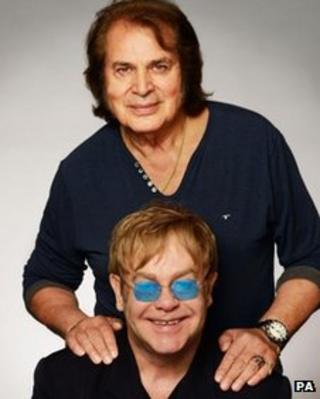 Sir Elton John has joined singer Engelbert Humperdinck on an album of duets to be released early next year.
"We had a great time singing together," said Sir Elton. "He is so quick, what I call a 'one-take singer' - 76 years old and still sounding as good as ever."
Humperdinck's latest album is released 45 years after his 1967 hit Release Me secured him his first number one.
The veteran star sang this year's British Eurovision entry, but - despite high hopes - finished second from last.
The artist, who has sold more than 150 million records worldwide and had a string of hit albums in the 1960s, has never previously performed with Sir Elton.
"This album is a true labour of love," said Humperdinck, who recorded the collaboration with Sir Elton in Los Angeles.
"We have a few more recordings to go, but what a cast.
"I'm keeping most of it under my hat but was so excited about working with Elton, who I have admired ever since first hearing him, that I just couldn't keep it to myself.
Las Vegas
"I'm honoured that he has contributed to this album," he added.
Humperdinck found himself back in the limelight earlier this year when he was chosen to sing the ballad Love Will Set You Free at the 57th Eurovision Song Contest in Baku.
However, after opening the contest with the first performance of the night, he finished in penultimate place, with just 12 points.
"I've had many highs in my career and Eurovision has been a wonderful experience," he said at the time.
Sir Elton, who called Humperdinck "one of the sweetest and nicest people I have ever worked with", recently completed his latest residency in Las Vegas. He will perform seven concerts in Australia later this month, before continuing his tour in China.