Profile: Adrian Van Klaveren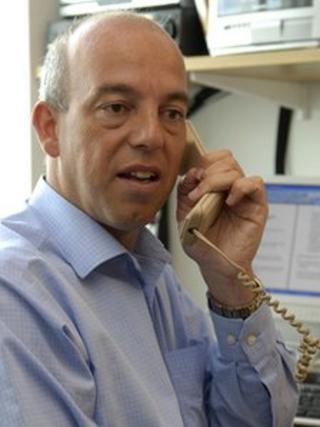 Adrian Van Klaveren, who has run BBC radio station 5 live since 2008, has been moved to a new job, in the wake of his role in a Newsnight report that incorrectly claimed a former Conservative politician was a child abuser.
Van Klaveren was the senior editorial figure to whom Newsnight referred when planning their report into child abuse in north Wales in the 1980s.
A BBC lifer, he joined the corporation as a news trainee from Oxford University in 1983 before rising to the role of producer on the Nine O'Clock News three years later.
He joined investigative series Panorama as senior producer in 1990 before becoming deputy editor of the Nine O'Clock News in 1992 and deputy editor of Newsnight two years later.
After a stint as head of the corporation's West Midlands programmes, he returned to London as part of the Newsgathering department in 1996, which he went on to run four years later.
Overseeing 600 staff in the BBC's 48 bureaux in the UK and across the globe, he co-ordinated coverage of the 11 September 2001 attacks and the Afghanistan and Iraq wars.
He was also part of a six-member BBC team that made recommendations about the BBC's editorial procedures after the last major BBC crisis following the Hutton Report in 2004.
Van Klaveren became deputy director of news and controller of news production in 2005 before his move to 5 live, the news and sport speech station, three years later.
He said it was his mission to "make even difficult stories popular, doing them in an intelligent but informal way".
His other main task has been to ensure a smooth move for the station and most of its programmes from London to the new BBC base in Salford.
The station moved at the end of 2011 and Van Klaveren succeeded in persuading heavyweight presenters including Nicky Campbell, Peter Allen and Victoria Derbyshire to stay on board.
But Van Klaveren's own position came in for scrutiny when it was revealed that he did not make a permanent move north, commuting every week from his family home in the south. That led to an embarrassing grilling from Derbyshire on his own station.
In 2010, 5 live was named UK radio station of the year at the prestigious Sony Radio Awards and dominated the same ceremony the following year, winning six gold awards.
5 live hit record listening figures of 7.1 million people per week at the end of 2011, but slipped back to 6.3 million between July and September 2012, despite rolling coverage of the Olympics.
The station has also come in for criticism from commercial rival TalkSport, which said 5 live did not stick closely enough to its remit of dedicating 75% of its air time to news.
Van Klaveren was called in to oversee BBC News coverage of the Jimmy Savile scandal at the end of October.
He was involved because BBC head of news Helen Boaden and her deputy Steve Mitchell had been removed from decision-making following the previous furore over Newsnight's aborted investigation into Savile a year ago.
That meant he also came to be in charge of the Newsnight story that falsely accused a senior former Conservative politician of child abuse.
The politician was not named but Tory peer Lord McAlpine was soon identified as the alleged abuser - but it turned out to be a case of mistaken identity and the allegations were wrong.
An internal report found that "responsibility for editorial sign-off of the report as a whole lay with Adrian Van Klaveren".
Van Klaveren will stay with the BBC in a different senior role not in BBC News.