Profile: Bureau of Investigative Journalism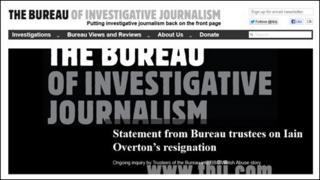 The Bureau of Investigative Journalism (BIJ) is back in the spotlight after its boss, Iain Overton, stepped down over a joint investigation with Newsnight, broadcast on 2 November, into child abuse allegations in north Wales.
In the report, an abuse victim accused an ex-Tory politician of sex abuse but Lord McAlpine, although not named on Newsnight, was wrongly identified on the internet as the alleged abuser.
The abuse victim, Steve Messham, apologised to Lord McAlpine, a former Tory treasurer during Margaret Thatcher's leadership, after saying he did not assault him.
The bureau, based at London's City University, is an independent body and a not-for-profit operation.
'Pivotal role'
Its team of journalists produce investigations for press and broadcast media, working in collaboration with other news groups.
James Lee, chair of the bureau's trustees, said it was "launched and built up under Iain's editorship".
He said of Overton's resignation: "Iain has played a pivotal role in the bureau's success to date. Under his editorship the bureau has gained a reputation for quality journalism as well as winning awards."
He described Overton's departure as "a real tragedy".
The bureau's mission statement on its website says: "Our team of journalists bolsters original news by producing high-quality investigations for press and broadcast media with the aim of educating the public and the media on both the realities of today's world and the value of honest reporting."
Along with Newsnight, the bureau has also worked with Panorama and File On Four at the BBC, Channel 4 News and Channel 4's Dispatches programme, The Financial Times, The Daily Telegraph and The Sunday Times among others.
The BIJ has produced a number of award-winning web, radio and TV reports, including winning the Amnesty International Digital Awards two years running.
Charitable foundation
It is staffed by journalists who have worked for media including The Daily Mail, the BBC, The Times, The Guardian and The Observer.
The bureau's editorial advisory board is chaired by Ray Fitzwalter, who was the executive producer on Granada TV's World In Action, which produced current affairs documentaries.
He has won two Baftas during his broadcasting career.
The BIJ was initially granted core funding from The David & Elaine Potter Foundation, which is run by computer tycoon David Potter, who was behind the Psion hand-held organisers, and his wife Elaine, a former Sunday Times investigative journalist.
The foundation describes itself as "a charitable family foundation established in 1999 to encourage a stronger, fairer civil society".
A statement on its website says it has granted nearly £12m to registered charities in the UK and abroad.