The Effect: Critics smitten by new Lucy Prebble play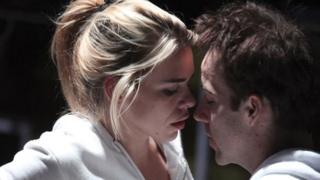 Lucy Prebble's new play about love and neuroscience appears to have enamoured most critics.
The Effect, which stars former Doctor Who actress Billie Piper, is Prebble's follow-up to her hit 2009 play Enron.
The National Theatre and Headlong co-production opened at the National's Cottesloe Theatre on Tuesday.
Directed by Rupert Goold, the play is set in a modern medical facility where a pharmaceutical company is testing anti-depressant drugs.
The front rows of the audience observe the action at close hand, from plush waiting room seats that surround the stage.
The story revolves around two young drug-test volunteers, psychology student Connie (Piper) and flirty drifter Tristan (Jonjo O'Neill), and two doctors played by Anastasia Hille and Tom Goodman-Hill.
As the medics up the dosage, Connie and Tristan find themselves attracted to each other. But they struggle to work out whether their feelings are real or a side effect.
Piper last worked with Prebble on the ITV series Secret Diary of a Call Girl.
Here is a sample of reviews published on Wednesday.
Daily Mail - Quentin Letts
Miss Prebble throws in an interesting thought about human minds not being able to cope with today's longevity.
She also argues that many psychiatric drugs are false (are 'chemical imbalance' theories as bogus as the medieval belief in humours?).
By the end I was not sure she had persuaded me of anything beyond a loose feeling that Connie and Tristan may be healthier away from the grasp of drugs and drug-testers.
Daily Telegraph - Charles Spencer
What makes The Effect so special is that as well as being a play of ideas, it is also deeply moving, both in its depiction of the giddy wonder of love, and also in its account of the terrifying wasteland of depression itself.
Rupert Goold can be a bit of a flash harry as a director, but there is a beautiful tenderness and grace about this production. Billie Piper, an actress with an amazing ability to tap into deep and apparently entirely spontaneous emotion, is superb as the drugs triallist awaking to love but fearful that it might all be a chemical trick.
The Guardian - Michael Billington
The piece is also beautifully staged by Goold in a Miriam Buether set that turns the Cottesloe into a clinical institution filled with beige banquettes. And the acting is excellent throughout. Billie Piper, as she proved in Treats and Reasons to Be Pretty, has a strong stage presence, and endows Connie with a glowing warmth and palpable hunger for love.
It's not a flawless play, but it's a palpably intelligent one that proves Enron was not a flash in the pan and that Prebble is one of the long line of dramatists who view medical practice with a rational scepticism.
The Independent - Paul Taylor
This is a provocative and challenging play and, as someone who has long had cause to be grateful for breakthroughs in medication, it ends in edgy gesture of good sense that made me feel like cheering.
The Arts Desk - Aleks Sierz
The best aspect of the production is the acting. Billie Piper and Jonjo O'Neill deliver beautifully contrasting performances as Connie and Tristan. Piper makes a convincing journey from light-hearted frivolity to emotionally devastated understanding, while he changes from a mouthy and charming youth to a prematurely aged victim.
Likewise, Anastasia Hille is brilliant as Dr James, strict, arid but finally deeply human. And as Dr Sealey, Tom Goodman-Hill is all efficiency, before the doubts overwhelm him.
What's On Stage - Michael Coveney
Piper gets better every time I see her, and this performance is full of laughter and tears, great physical verve and vivacity, while O'Neill burns up the stage with an electrifying confidence and swagger burnished in his RSC work over the past few years. An imperfect play, maybe, but one that pleases and provokes in equal measure.
The Effect is at the National's Cottesloe Theatre until 23 February.