Jude Law and Michael Gambon to receive film honours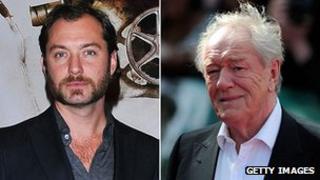 Jude Law and Sir Michael Gambon are to be honoured at this year's British Independent Film Awards.
Law will be presented with the Variety Award for helping to shine the international spotlight on the UK.
Previous winners include Sir Michael Caine, Dame Helen Mirren, and last year's recipient, Sir Kenneth Branagh.
Sir Michael, whose career has spanned 60 years, will receive the Richard Harris Award for "outstanding contribution" to British film.
He stepped into Harris's shoes in 2004 when he took over the role of Professor Albus Dumbledore in the Harry Potter film series, following Harris's death two years earlier.
His other numerous roles on stage and screen include The Singing Detective, which won him his first of four best actor Baftas in 1987.
He also played Jules Maigret in the 1990s ITV detective series Maigret.
The Richard Harris Award was introduced 10 years ago to honour the Irish actor, best known for playing King Arthur in the 1967 film Camelot.
Bob Hoskins, Daniel Day-Lewis and Helena Bonham Carter are among the previous winners of the award.
Sir Michael Gambon's most recent film role was in Dustin Hoffman's Quartet, which will be released in the UK in January.
He is currently on stage starring in All That Fall at the Arts Theatre in London's West End.
Law has twice been nominated for an Oscar and won a best supporting actor Bafta for The Talented Mr Ripley in 1999. He is currently filming the crime caper Don Hemingway in London.
The British Independent Film Awards will be held on 9 December at a ceremony in London.
Broken, starring Tim Roth and Cillian Murphy, has nine nominations in eight categories.