Michael Hutchence biopic planned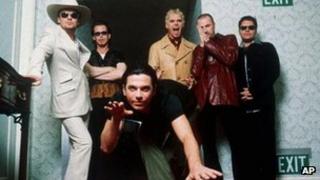 Work is under way on a film about Australian rock star Michael Hutchence, who died 15 years ago this week.
"It's a big task," screenwriter Bobby Galinsky told ABC radio in Australia.
"I've been a writer for 35 years and this is something I've wanted to do for over a decade and everything has now come together," he said.
The film will be based on the book Just A Man: The Real Michael Hutchence, by the singer's mother and sister.
Galinsky intends the film to be a biopic in the style of Oscar-nominated movies Ray and Walk The Line, covering the entirety of Hutchence's life.
"I want it to be what was behind the man, not just the guy you saw on stage, but who was Michael Hutchence?," Galinsky told the radio station.
"What drove him, what were his demons, what were his loves - not the persona that people saw on stage for a couple of hours."
Casting
Hutchence became a global star as the frontman of INXS in the late 1980s and early 1990s, with hits such as Need You Tonight and Devil Inside.
Their breakthrough album Kick, released in 1987, sold more than 10 million copies.
Hutchence made headlines with a string of high profile relationships with stars such as Kylie Minogue and Paula Yates, with whom he had a daughter.
He was found dead in a hotel room in Sydney on 22 November 1997.
A coroner found the 37-year-old performer had died from suffocation caused by hanging - he was understood to have been under the influence of drugs and alcohol at the time.
The film is set to be titled Two Worlds Colliding, after lyrics from the INXS track Never Tear Us Apart.
No decision has been made regarding casting, but Galinsky said he had been "in conversation with couple of guys" including "an English gentleman [and] several Australians".
"But I would hate to pick someone out at the moment," he added.
INXS continued to tour after the death of Michael Hutchence, eventually replacing the lead singer with a frontman discovered on a reality TV show.
They announced their retirement after 35 years earlier this month.