Clare Balding honoured for Olympic work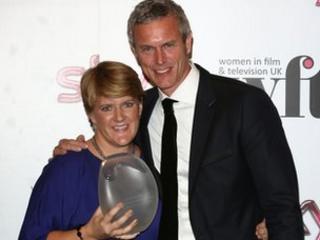 BBC Sport presenter Clare Balding has been honoured at the Women in Film and Television (WFTV) Awards.
The 41-year-old was presented with the achievement of the year prize for her work on the London 2012 Olympic and Paralympic Games.
Actress Olivia Colman received best performance in recognition of her roles over the past year including The Iron Lady, Accused and Twenty Twelve.
We Need to Talk About Kevin director Lynne Ramsey was also honoured.
Speaking at the London ceremony, Balding said: "I hope that in the future you're going to see female anchors working together, you'll see female commentators which is the next big breakthrough.
"There are one or two who do commentating but very few. Obviously sports presenters, you see women who've done phenomenally well; Hazel, Gabby, Sue, Mishal Husain, all of us working together I hope knowing our stuff, and I think that's what we've been valued for. I take the award on behalf of all of the women in sports television."
There were two other awards for women involved with the Olympics - Tracey Seaward, who produced the Opening Ceremony was presented with the producer award by director Danny Boyle.
And BBC director of sport Barbara Slater picked up the inspirational woman award for overseeing all the coverage.
Former lifetime achievement award winner Julie Walters returned to present this year's award to drama producer Ruth Caleb.
Caleb's 40-year career includes producer credits on Pat and Margaret, Last Resort, Bullet Boy and The Last Days of the Lehman Brothers.
"We're so proud that three of our winners - Clare Balding, Barbara Slater and Tracey Seaward - were key players in delivering the most watched TV event in UK broadcasting history, the London Olympics," Kate Kinninmont, WFTV chief executive, said.
"Every single one of our winners is an inspiration and a role model."