Quentin Tarantino: 'My scripts are novels'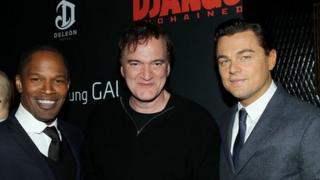 Director and screenwriter Quentin Tarantino says he considers his film scripts, which include Reservoir Dogs and Kill Bill, to be novels.
The US filmmaker's latest movie, Django Unchained, starring Jamie Foxx is released in UK cinemas on 18 January.
His 1994 script for Pulp Fiction earned him an Oscar and he was nominated again in 2010 for Inglourious Basterds.
He told the BBC: "I write this novel in script form and then every day on set, I adapt that novel into a movie."
A former video store employee, Tarantino's first script was True Romance, which was directed by the late Tony Scott in 1993.
His second was Natural Born Killers which was adapted by Oliver Stone in 2007, starring Woody Harrelson and Juliette Lewis.
Speaking to the BBC's arts editor Will Gompertz, Tarantino said: "The writing of the script is very pure, I work with a pen and paper.
"I'm very proud of the fact and it's a huge accomplishment for me when I'm sitting at a cinema on Leicester Square, watching the film, watching a full audience and knowing not that not long ago, I was sitting at a desk with a pen and blank piece of paper.
"That's where it all started."
His new film sees Jamie Foxx as a freed slave searching for his wife and seeking revenge against the men who held him captive.
It co-stars German actor Christoph Waltz - who won an Oscar for best supporting actor for playing a Nazi officer in Tarantino's Basterds.
It also stars an almost unrecognisable Leonardo DiCaprio as villainous plantation owner Calvin Candie.
Missing sequences
Tarantino, whose narratives are often told in reverse or skip backwards and forwards, said: "I don't write a blueprint that the movie's going to be and I follow it and make the finished film, I want the script to work as a piece of literature.
"Whether it does or not is up to the eye of the beholder but for me, I'm not thinking about the movie, it's all about the writing and the reading experience.
The director admits, "there are sequences in most of my scripts, certainly in the second half of my career that I have no real intention of making into the movie".
"I know they'll never make the movie but it makes the script better. I write this novel in script form and then every day on set, I adapt that novel into a movie."