Bill Gates to deliver Dimbleby lecture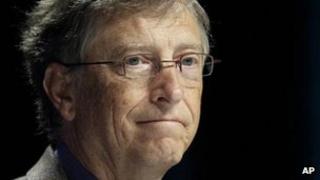 Microsoft founder Bill Gates will deliver BBC One's annual Richard Dimbleby Lecture next month.
Jonathan Dimbleby, who will host the lecture, called Gates "one of the world's greatest entrepreneurs and most generous philanthropists".
"In our troubled times, it is fantastic news that he has agreed to deliver this year's Richard Dimbleby Lecture."
The lecture will address how to ensure that every child has a chance of leading a healthy and productive life.
Since the launch of the Bill and Melinda Gates Foundation, Gates has become a leading figure on the international development stage, seeking innovative solutions to extreme poverty and poor health in developing countries.
Recent projects include the search for an environmentally friendly toilet that can improve sanitation around the world and funding online access to some of the US top universities.
The foundation, whose central tenet is that "every life has equal value", has invested over $25bn (£15.5bn) in grants since it was set up in the mid-90s.
Previous Richard Dimbleby lecturers include the Prince of Wales, Bill Clinton, writer Terry Pratchett and Dr Rowan Williams.
Set up in honour of the veteran broadcaster, it is hosted by one or other of his sons, David or Jonathan, who both followed their father into broadcasting.