BBC 'should be bold in gay coverage'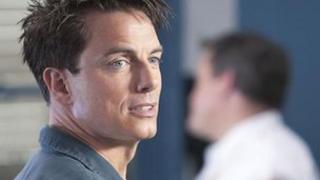 The BBC has been urged to be "more creative" and "bolder" in how it represents lesbian, gay and bisexual (LGB) people across its output.
The recommendation was made by experts contributing to a BBC review on its portrayal of LGB people.
The report's contributors called on the corporation to feature more LGB people in its news and current affairs, sport and children's programming.
The review also included the responses of around 2,700 members of the public.
Although the experts said all broadcasters had a responsibility to represent diversity, the BBC had an extra obligation as it was funded by the licence fee and needed to be "a standard bearer".
They said although the portrayal of LGB people had improved over the past 10 years, there was still a sense they were "still relatively invisible, especially lesbian women and bisexual people".
Organisations that took part in the research included gay rights lobby group Stonewall, trade union Equity and The Lesbian and Gay Foundation, as well as charities.
The BBC's radio stations were perceived to have better representation of LGB people than its TV channels.
The largest criticism was aimed at BBC news and current affairs, which was felt to be "unnecessarily and deliberately confrontational".
"Portrayal on news is not that incidental. It is very much a story about 'somebody is gay'," Stonewall said.
Equity added: "News programmes tend to cover issues relating to LGB in the old provocative ways still, i.e. the 'rent a bigots' still get to have their say."
On the subject of including more LGB people in children's programming, charity Families Together said the BBC needed to "grow up".
"[The] best way to help is for young children from nursery age upwards to be exposed through children's programming."
The BBC was praised for the "incidental inclusion" of LGB characters in a number of high-profile drama series, including Doctor Who, Torchwood, EastEnders, Holby City and Casualty.
"Doctor Who quite often has a gay character in it but it isn't always an issue or the plotline - it's just incidental which has been quite nice," said Galop, an anti-hate crime charity.
But the experts still urged programme-makers to be more bold and braver in its output.
The corporation was also praised for its high-profile LGB presenters, including Clare Balding, Radio 1 Breakfast show DJ Nick Grimshaw and Great British Bake Off host Sue Perkins.
The second part of the review surveyed 2,709 audience members on the issue.
Forming part of the BBC's independently run audience reaction panel, it included 436 people who identified themselves as lesbian, gay or bisexual.
The survey showed that about 40% of people think it is important that TV in general features LGB content, while 20% think it is unimportant and 40% have no view.
When asked the same question specifically in relation to the BBC, there was a similar response - with the audience not distinguishing a difference in obligation just because it was the BBC.
Overall, the portrayal of LGB people on TV was thought to be less important than other characteristics, such as having a disability.
Around 20% of respondents thought there was too little LGB coverage on TV, however 25% of heterosexual men said there was too much coverage of LGB people on TV - particularly of gay men.
The BBC said it would repeat the survey in a year and would use the findings to help address the amount of portrayal of LGB people in its output.