Dame Judi Dench: Skyfall Oscar omission 'a pity'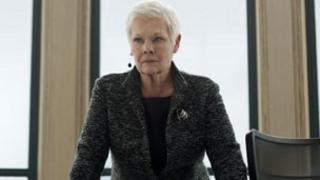 Dame Judi Dench has expressed her disappointment that Bond movie Skyfall failed to receive nominations in the main categories at the Academy Awards.
Dame Judi, who plays spy chief M, told BBC Radio 4 it was a "great pity" the movie did not feature in the best film, director or acting categories.
"I'm very, very sorry that nothing has been recognised," she told Eddie Mair.
"That's a great pity. I thought Sam Mendes directed it absolutely beautifully. It was a terrific film.
Skyfall featured five times in the 2013 nominations list, announced in Los Angeles on Thursday.
But most of the nods were for the film's production, including cinematography, sound editing and sound mixing.
The film also scooped a nomination for its theme song, sung by Adele, which went to number two in the UK singles chart in October.
Asked by the PM programme if she thought there was a bias against Bond movies when it came to awards, Dame Judi said she "hoped not".
"There may be. I don't know. I hope not. I just think that all round it was really wonderfully directed and presented and filmed and lit and shot," she said.
"But I've got a Bafta nomination and that's terrific.
"I think it's good luck if you get an Oscar nomination and bad luck if you don't."
Skyfall was nominated for eight Bafta film awards on Wednesday, including best supporting actress for Dame Judi and best supporting actor for Javier Bardem, who plays the villain Silva.
The other nominations were again for production and music, despite speculation that Bafta voters would put it in the best film category to mark the film franchise's 50th anniversary.
This year's Oscars ceremony will feature a tribute to the Bond movies to mark their half-century.
Over 50 years the 23 Bond films have gathered 25 nominations, mainly in production. The first win was for From Russia with Love's cinematography in 1964.
Despite her sadness over Skyfall's showing in the Oscar nominations Dame Judi said she had not been on tenterhooks waiting to find out about them, admitting she did not realise the announcement was taking place on Thursday.
"I had a lot of things to do this morning, so that took my mind away from it all," she said.
"I heard the radio, which I'm an avid listener to. So I heard it announced on the radio about half past one, I think. I wasn't tense with anticipation."
Dame Judi also said she had enjoyed working on Skyfall no matter what the awards voters thought of the film.
The 85th Academy Awards take place in Los Angeles on 24 February and will be hosted by Family Guy creator Seth MacFarlane.