Dominic Cooper to play Ian Fleming in new Sky drama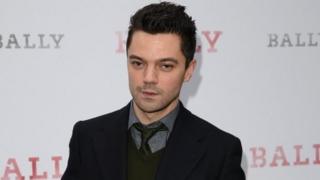 Mamma Mia! star Dominic Cooper is to play Ian Fleming in a new drama about the James Bond creator, to be screened later this year.
The British actor will portray the author in a "no-holds barred" four-part drama on Sky Atlantic.
Cooper said: "Stepping into the shoes of the spy who not only created 007 but fantasised about being him has to be every actor's dream."
Kylie Minogue has also been recruited by Sky to star in Playhouse Presents.
The actress-turned singer is keen to return to her roots, having made her name playing the role of Charlene in Australian soap opera Neighbours in the 1980s.
She will appear in Hey Diddly Dee, a play written and directed by actor Marc Warren.
"When the script was sent to me, I read it and knew instinctively I wanted to be part of this project," said Minogue.
"In Hey Diddly Dee, Marc has created a beautiful and quirky story. I have also enjoyed many of the Playhouse Presents series and love that they have created a platform for this type of work."
Minogue joins a raft of talent including Vanessa Redgrave, Kathy Burke, Anna Friel and Matthew Horne in the new series, while Matt Smith and Idris Elba join Warren in making their directorial debuts.
Other announcements in the Sky drama schedule include The Reckless Season - five original dramas from some of Britain's most critically-acclaimed female screenwriters, including Sally Wainwright, Gwyneth Hughes and Annie Griffin - and the two-part finale of Mad Dogs, starring Philip Glenister and John Simm.