Toni Collette to star in Homeland-style drama Hostages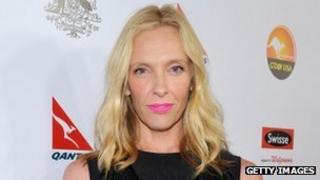 Award-winning actress Toni Collette has been given the lead role in a new US conspiracy drama, Hostages.
According to Variety magazine, Collette will play a doctor whose family is taken hostage after she is chosen to operate on the US President.
The CBS drama has been penned by Jeffrey Nachmanoff of the award-winning series Homeland, starring Damien Lewis.
Collette is also starring in the forthcoming Hitchcock film, alongside Sir Anthony Hopkins.
The 40-year-old actress won a Golden Globe and an Emmy award for her lead performance in the comedy-drama United States of Tara.
The show, which followed a suburban housewife and mother coping with a dissociative identity disorder, ended its run in June 2011.
Collette was nominated for an Oscar for her portrayal of Lynn Sear in the 1999 thriller The Sixth Sense and her role as Muriel Heslop in Muriel's Wedding (1994) won her a Golden Globe Award nomination for best actress.
She also appeared in Emma alongside Gwyneth Patrow; the British comedy About a Boy, adapted from a novel by Nick Hornby, and the Oscar-winning Little Miss Sunshine.
Hostages is based on an Israeli format that was never produced and will follow Ellen (Collette) a Washington DC surgeon who becomes embroiled in a political conspiracy when she is chosen to perform surgery on the US President.
In addition to writing and directing the pilot, Nachmanoff will executive produce the series alongside Jerry Bruckheimer.
Nachmanoff, who penned the feature film The Day After Tomorrow starring Dennis Quaid and Jake Gyllenhaal, was responsible for writing two episodes of Homeland during its first season.