Royal hoax radio show cancelled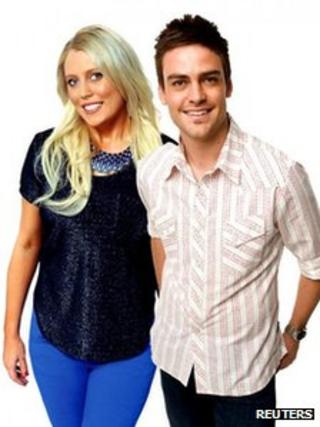 The Australian radio show that made the hoax call to the hospital treating the Duchess of Cambridge in December has been cancelled.
2Day FM's Hot 30 programme had been taken off air following the death of nurse Jacintha Saldanha, who was found hanged after forwarding the call.
The broadcaster said a new show, hosted by a different DJ, would fill the slot.
Michael Christian and Mel Greig, the DJs who made the call, were still employed by the station, it added.
The pair have been on leave since the incident and a music-based show without a host DJ has been broadcast in their show's place.
"We look forward to Mel and MC returning to work when the time is right, in roles that make full use of their talents," said Rhys Holleran of Southern Cross Austereo, owner of 2Day FM.
"We will discuss future roles with them when they are ready,"
The duchess was being treated at King Edward VII's Hospital for an extreme form of morning sickness when Christian and Greig made their prank call pretending to be members of the Royal Family.
Mrs Saldanha answered the call and put them through to another nurse who gave an update on the duchess's condition.
Mrs Saldanha was found hanged three days later.
Last month the Australian media watchdog launched a formal inquiry to examine whether any broadcasting rules had been breached.
2Day FM also pledged to give at least 500,000 Australian dollars (£330,600) from its advertising profits to the family of Mrs Saldanha.