Cartoons that courted controversy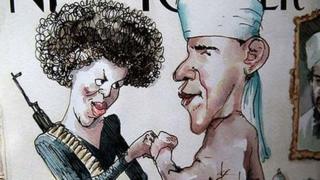 The BBC looks at the cartoons which have courted controversy in the past.
Muhammad cartoon provokes fury
Twelve caricatures of the Prophet Muhammad published in 2005 had a huge impact around the world, with riots in many Muslim countries causing deaths and destruction the following year.
The controversy was sparked when Danish newspaper Jyllands-Posten published the cartoons showing Muhammad in a variety of humorous or satirical situations, including one as a bearded man with a bomb in his turban.
Violence continued as the cartoons were republished by several other European newspapers in solidarity or outrage. Other media outlets - including the BBC - refrained from publishing them to avoid causing offence to their audiences.
A Somali man who attacked the Danish cartoonist responsible for the drawings was jailed for nine years by a Danish court in 2011.
New Yorker angers Obama camp
The election team for US President Barack Obama decried The New Yorker magazine for a 2008 cartoon on its front cover, depicting him in traditional Muslim dress and his wife as a terrorist.
The magazine said the image, which was drawn by Barry Blitt, was intended as a satirical comment about some of the distorted right-wing attacks on the Democratic senator.
An Obama campaign spokesman called the cartoon "tasteless and offensive".
Egypt paper in cartoon campaign
In September 2012, a newspaper in Egypt launched a campaign in response to obscene cartoons of the Prophet Muhammad published in the French magazine, Charlie Hebdo.
Secular daily paper Al-Watan published 13 cartoons under the slogan "Fight cartoons with cartoons". The two-page spread of drawings was published as part of a 12-page dedicated section responding to Charlie Hebdo.
The cartoons included one showing a white man accusing an angry, bearded man of being a terrorist until he sees he is from Israel and offers him a flower instead.
'Artistic bombs'
Cartoons by Ernest Forbes were published in the Freeman's Journal during the 1920s and were described at the time by the Irish government as "artistic bombs".
They provided hard-hitting commentary on events during one of the most troubled periods in Irish history and included original caricature portraits of politicians like Michael Collins, Eamon de Valera and Edward Carson.
Forbes's last cartoon was dated 15 November 1924 and depicted Edward Carson and the Northern Irish unionists. Just one month later the Freeman ceased publication.
Man seeks to ban Tintin book
A Congolese man attempted to get a controversial Tintin book banned in the cartoon star's home country of Belgium in 2010.
Bienvenu Mbutu said the ginger sleuth's "little (black) helper" in Tintin in the Congo was seen as "stupid and without qualities".
"It makes people think that blacks have not evolved," said Mr Mbutu, who lives in Belgium.
Mr Mbutu was not the only one to complain about the book's crude racial stereotypes. The UK's Commission for Racial Equality also called for the book to be banned, saying it contained imagery and words of hideous racial prejudice.
India professor arrested over cartoon
A professor in Calcutta was arrested by police in India last year for allegedly posting cartoons on the internet ridiculing the Chief Minister in West Bengal, Mamata Banerjee.
The cartoon, a take on the Oscar-winning Bengali filmmaker Satyajit Ray's film Sonar Kella, or The Golden Fort, went viral on the social networking site, Facebook.
Professor Ambikesh Mahapatra emailed friends the cartoon which criticised Ms Banerjee's performance as a former railway minister. It also poked fun at her for sacking former minister Dinesh Trivedi from the same role.
Professor Mahapatra was later released on bail.
Image of Jesus provokes anger
In 2007 a Malaysian newspaper faced calls to shut down after it published an image of Jesus holding a cigarette and what appeared to be a can of beer. The paper subsequently issued an apology, explaining that a graphics editor had mistakenly taken the image from the internet.
The previous year, the country's Muslim-led government closed two publications for carrying controversial cartoons of the Prophet Muhammad.
Plot to murder Swedish cartoonist
Lars Vilks became embroiled in controversy in 2007, when his entry in an arts project was published by the Swedish newspaper Nerikes Allehanda.
Several Muslim countries protested against the picture, which depicted a dog with the head of a bearded man in a turban.
A group linked to al-Qaeda in Iraq offered a $100,000 (£63,600) reward for killing Mr Vilks, and a 50% bonus if he was "slaughtered like a lamb" by having his throat cut.
Shapiro sued by South African leader
South Africa's governing party ANC expressed "disgust" last year at a cartoon of President Jacob Zuma depicted as a penis.
The cartoon by prominent artist Jonathan Shapiro also featured a poem, which referred to Mr Zuma as a "dick".
The president previously sued the cartoonist, who works for the Mail & Guardian newspapers, after he depicted Mr Zuma in 2008 about to rape a female figure representing justice. Mr Zuma was cleared of raping a family friend in 2006.