Rowan Atkinson wins praise for 'serious' role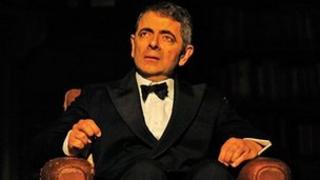 Actor Rowan Atkinson has been praised by critics for returning to the stage in what he calls "the most... overtly serious role" he has ever undertaken.
The Mr Bean star plays the title role in Quartermaine's Terms, Simon Gray's 1981 tragi-comedy about teachers at an English language school.
The Daily Telegraph said the 58-year-old "proves superb" as a "terrible" teacher "detached from his own life".
Its five-star review called the play "magnificently funny and touching".
Atkinson's latest project, which had its opening night on Tuesday this week at the Wyndham's Theatre in London, marks his first appearance on stage since he played Fagin in Oliver! in 2009.
Last year he was seen in the London 2012 opening ceremony, delighting millions in a skit that saw his Mr Bean alter-ego "perform" the Chariots of Fire theme with The London Symphony Orchestra.
In an interview to be broadcast on Wednesday's edition of Radio Four's arts programme Front Row, the Blackadder star concedes he is better known for what he calls "shallow comedy stuff".
"But I'm a great believer that, if you are a character actor, acting seriously is the same as acting funnily," he tells presenter Mark Lawson.
"It takes a second or two to adjust to such a physical comedian in a primarily straight role," admitted Simon Edge in the Daily Express.
"But then you remember that even Mr Bean is a poignant figure at heart, so it's not such a stretch after all."
Writing in The Guardian, critic Michael Billington said the actor "conveys the essential loneliness of the long-distance teacher".
"Without effacing memories of Edward Fox in the role, Atkinson suggests a man whose very niceness is inherently tragic."
Conleth Hill, Felicity Montagu and Malcolm Sinclair are among the other cast members in the play, first staged in 1981 with Fox in the title role.
Gray, whose other plays include Butley, Cell Mates and The Common Pursuit, died in 2008 at the age of 71.
You can hear the full interview with Rowan Atkinson on Radio 4's Front Row at 19:15 GMT on 30 January.