Arnold Schwarzenegger film The Last Stand bombs in UK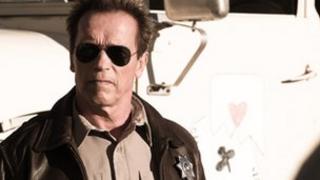 Arnold Schwarzenegger's comeback film The Last Stand has scraped into the Top 10 at the UK and Ireland box office in its opening week of release.
The movie, which sees the actor play a sheriff chasing an escaped drug baron, took just £539,000 from 356 cinemas.
The Last Stand, which had an estimated budget of $30m (£19m), averaged £1,514 at each screen.
Les Miserables remains the top UK film for a third successive week, raking in £4m for an overall total of £24.61m.
Tom Hooper's critically acclaimed production, based on the West End musical, opened with £8.13m but saw a 46% drop from last week - blamed largely on snow deterring potential cinemagoers.
Last year saw just four films - Avengers Assemble, The Dark Knight Rises, Skyfall and The Hobbit: An Unexpected Journey - top £4m for three consecutive weeks. All of them went on to make more than £50m.
Les Miserables is now the second highest-grossing musical in UK box office history behind Mamma Mia! (£69.2m), after overtaking Moulin Rouge (£18.5m) and High School Musical 3 (£22.8m).
Films nominated for best picture at next month's Oscars filled the top five places at the UK box office, with Quentin Tarantino's Django Unchained at number two after taking £2.4m for a total of £7.18m.
Lincoln debuted at three with £1.65m, while Zero Dark Thirty opened with £1.05m. They were separated by Life of Pi, whose £1.19m took its overall UK takings to £25.9m.
Tsunami drama The Impossible, raunchy comedy Movie 43, the 3D re-release of Monsters, Inc. and The Hobbit: An Unexpected Journey complete a Top 10 rounded off by The Last Stand in 10th place.