US comedy Entourage gets big screen go-ahead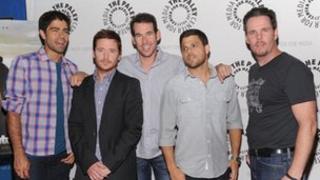 The hit US television comedy series, Entourage is to be a made into a film, Warner Bros. has confirmed.
Entourage ran on HBO from 2004 until 2011 and followed the Hollywood exploits of a young actor, A-lister Vincent Chase, and his friends.
The film will be written and directed by series creator Doug Ellin.
Mark Wahlberg, the TV show's producer told MTV: "It took a long time to get it written, get it right, and we got a fantastic script."
"I always knew the fans wanted a movie. Everywhere I'd go, people are always asking me, What about Entourage? When's the movie coming?'
Warner Bros. is very excited about it. All the guys are excited," he said.
The show was known for its celebrity guest appearances, including the actress Scarlett Johansson, hip-hop star Kanye West and singer Christina Aguilera
The project has not yet been given a release date and no announcement has been made about who will star in the film.