England's samurai takes the stage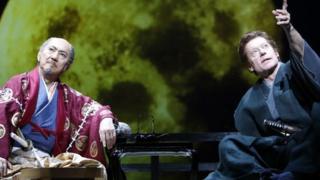 Anjin, a new Anglo-Japanese play at London's Sadler's Wells, tells the story of William Adams, believed to be the first Englishman to set foot in Japan.
In later years, Adams had a district of Tokyo named after him and two annual Japanese festivals are held in his honour, but who was he?
He arrived in Japan aboard a Dutch vessel in 1600 - the term Anjin refers to the pilot of a ship - and remained there until his death in 1620, having married and had children with a Japanese woman.
He is credited with establishing a dialogue between James I of England and the ruling Shogun, Tokugawa Ieyasu - and with helping the Shogun become de factor Emperor, by advancing Ieyasu's knowledge of Western warfare.
Directed by the Royal Shakespeare's Company's Greg Doran, the play - which has already been staged in Japan - is performed by a bi-national cast in two languages.
It features spectacular dance and fight sequences, reminiscent of the Japanese theatrical genres of Noh and Kabuki.
"Both Adams and the Shogun were curious-minded people," explains Stephen Boxer, who plays the title role. "They were interested in the wider world; in geometry, geology, astrology and so on. That is why they became friends."
The Shogun was especially interested in Adams' knowledge of the warfare techniques of Europe, which were at that time more advanced than those in Japan. Adams apparently taught the Shogun's troops to fire cannon more rapidly, with deadly results - handing him victory in battle and ultimate authority.
"Adams wanted to return to England to see his wife and family," explains Boxer. "However the Shogun insisted that he stayed in Japan. He promised him an estate and ninety servants.
"It was an offer he could not refuse but he seems to have become enchanted by Japanese people and their culture."
Celebrated Japanese actor Masachika Ichimura, who plays the Shogun said his character "was really helped by the knowledge that William Adams brought with him from the West - especially the new military technology".
"It helped him to defeat his enemies in battle and that led to a period of peace. I am honoured to play this honourable man."
Ichimura says that during rehearsals and the play's run in Japan, performers from both countries learned to appreciate each other's acting techniques and contrasting ways of thinking.
Boxer addes that the hardest element of the play was to represent Adams after he became a samurai.
"The battles are beautifully choreographed and the samurais have a special way of moving.
"There was a very severe man who acted as fight director who sat in on the rehearsals. If I put a finger wrong, he was down on me like a ton of bricks!
"I have to say, I ended up moving like a very English samurai!"
The play is part of a year-long season entitled Japan400, marking the anniversary of Britain's first official contact with Japan.
Other events include a major exhibition of Japanese erotic art, known as shunga, to be held at the British Museum this autumn. There will also be special events on Japan's southern island of Kyushu, where Adams lived.
Nicolas Maclean, co-Chairman of Japan400 and Honorary President of the William Adams Association, says: "Adams not only came first, but is a model for all who follow. He learned the language, was sensitive to a very different culture, and therefore succeeded in his relations with the Japanese."
And although it is set 400 years ago, Boxer believes Anjin still sends a valuable message about collaboration. "People are terrified about cultural dilution," he says "but when you put two cultures together, one enriches the other."
Anjin runs at London's Sadler's Wells Theatre from 31 January until 9 February, 2013