Comic Relief stand-up marathon sells out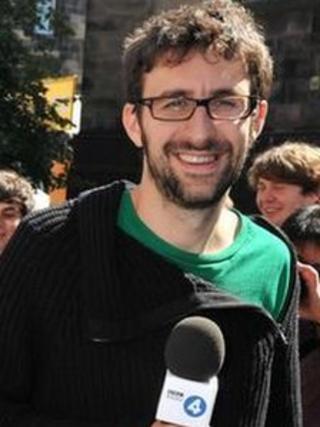 Tickets for comedian Mark Watson's 25-hour stand-up show, to raise money for Comic Relief's 25th anniversary, have sold out in four minutes.
Watson, who has undertaken two previous 24-hour stand-up events said he was "pleasantly surprised" by the response.
"Anytime I have tried to book online, it's taken me more than four minutes just to get all the faffing about done. People were very quick on the draw."
The show kicks off on 28 February at 23:00GMT at London's Pleasance theatre.
The event, dubbed "an alternative Comic Relief show", will run "a full and potentially ruinous hour longer than the day-long shows with which I made my name," Watson wrote in his blog last month.
"I'm doing it for Comic Relief, to mark their 25th anniversary and make them a bit of money and try to create a memorable festival of human co-operation/tiredness."
Watson has previously performed 24-hour shows at the Edinburgh and Melbourne festivals, but vowed never to do it again in 2009.
"It's been three years, so it's a bit like Rocky getting back into shape," Watson told BBC News.
But he added: "Since the last time I did a long show, I've had the best sleep training possible, which is getting up with a toddler every morning. Filling the time is a challenge, but sleep deprivation is the least of my worries.
"My critics might argue it's just a novel way of me getting out of the house."
Cake house
Watson hopes a number of well-known comedians will drop in to the 289-seat venue during the gig, but said it was "impossible to predict a thing".
The comedian, who has vowed to only leave the stage for toilet breaks, is hoping to bolster fund-raising by encouraging members of the public to join in with their own 25-hour events.
Current challenges given the go-ahead include a man who will carry his fiancee for 25 hours and someone building a house out of a cake on stage during Watson's performance.
"I didn't want to do something half-hearted when you have John Bishop running and cycling 300 miles and raising enormous amounts," he told The Independent.
"I want to make it pretty uncomfortable for myself... The biggest challenge is the voice. After 16 hours, even talking at a conversational volume is a real strain."
Tickets cost £25, but if fans leave the show for more than a specified amount of time, their seats will be forfeited to those queuing at the door.
But Watson believes most punters "will see it through". "People are bloody-minded - the longer they've been there the less sense it makes to leave," he said.
"Or they get so addled by sleep-deprivation, that they forget they have homes to go to."
The annual Comic Relief telethon will take place on 15 March with presenters including Michael McIntyre, Jonathan Ross and John Bishop.
In addition, a one-off concert to raise money for people affected by alcohol and drug addiction, will take place at Wembley Arena on 6 March.
Hosted by Russell Brand, it will include performances from comedians Jimmy Carr, Frankie Boyle and Eddie Izzard, and music from Emeli Sande and Jessie J - among others.