Marion Cotillard awarded Hasty Pudding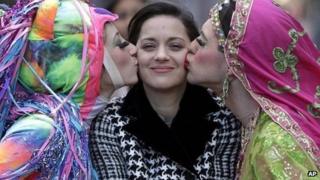 Bafta nominee Marion Cotillard has been awarded this year's Hasty Pudding Woman of the Year award in Boston.
Cotillard, who is nominated for best actress for her role in Rust and Bone, received the annual award from Harvard University's theatre troupe.
The 37-year-old actress joined a parade in the back of a convertible through Cambridge's Harvard Square.
She later sang a song from La Vie En Rose, the biopic for which the star won an Oscar playing Edith Piaf in 2008.
Cotillard's other recent performances include The Dark Knight Rises, Contagion and Inception.
The awards are presented annually by the Hasty Pudding Theatricals troupe, to performers who have made a "lasting and impressive contribution to entertainment".
Homeland star Claire Danes was named last year's Woman of the Year, while Jason Segal was named Man of the Year.
This year's Man of the Year will be announced on 8 February.
Former US President John F Kennedy, actor Jack Lemmon and journalist Alistair Cooke are among the alumni of the troupe, the oldest undergraduate drama group in the US.