The Fall Guy Lee Majors to guest star in Dallas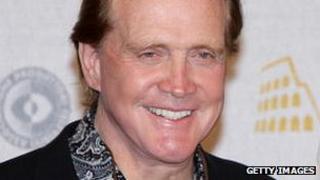 Lee Majors, star of cult TV shows The Six Million Dollar Man and The Fall Guy, has been signed up as a guest star in the next series of Dallas.
The actor, 73, will play Ken Richards, an old flame of Sue Ellen's who crosses paths with her over some business.
Majors recently guest starred in the comedy series Raising Hope.
Dallas, shown on TNT in the US and screened on in the UK on Channel 5, kicked off its second season in the US with three million viewers.
The show, which re-launched last year after a 20-year hiatus, focuses mainly on the adult sons of the Ewing brothers, JR and Bobby, and their relationships with their fathers.
Dallas was hit by tragedy in November after veteran actor Larry Hagman, who had reprised his role as amoral family patriarch JR Ewing, died of leukaemia. He was 81 years old.
In December, the show's producers announced the much-loved character's funeral will take place in the second season.
During its original incarnation between 1978-91, Dallas was one of the CBS network's top-rated programmes and was watched by an estimated 300 million people in 57 countries.
Between 1974 and 1978 Majors achieved world fame as Colonel Steve Austin, a former astronaut, who after a terrible test flight crash was fitted out with bionic limbs.
The series, The Six Million Dollar man went on to cult status and spawned several TV movies and The Bionic Woman.
In the 80s, he played stuntman turned bounty-hunter Colt Seavers in The Fall Guy for five seasons and more than 100 episodes.
Married four times, his second wife, Charlie's Angels actress Farrah Fawcett died of cancer in 2009.