Skyfall wins best film at Evening Standard awards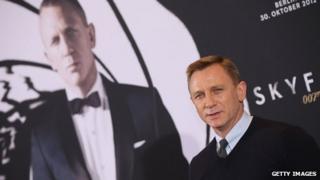 James Bond film Skyfall has been named film of the year at the London Evening Standard British Film Awards.
The 23rd film in the secret agent series also picked up blockbuster of the year - selected from the top 10 UK box office hits of 2012.
Toby Jones was named best actor for Berberian Sound Studio, while Andrea Riseborough was named best actress for Shadow Dancer.
The awards, at the London Film Museum, were presented by Stephen Mangan.
Skyfall has also been nominated for outstanding British film at this year's Baftas, which take place in London next weekend.
Evening Standard editor Sarah Sands said: "Thanks in part to the extraordinary success of Skyfall - a truly big British movie, delivered with a panache Hollywood could envy - 2012 also highlighted the creativity, vision and talent of a new generation of British film-makers, actors and actresses."
Riseborough picked up her award for her role as an IRA informant in political thriller Shadow Dancer. She is also on the shortlist for the Bafta rising star award this Sunday.
New British talent
The actress, who stars in the film set in Northern Ireland during the Troubles, said she was overwhelmed to be recognised.
"It's a huge affirmation and you work on something for such a long time and you're so passionate about it, and then you're so excited other people are responding to it and it's valuable to them in some way," she said.
Toby Jones took best actor in the face of competition from Eddie Redmayne for Les Miserables and Daniel Day-Lewis, who is hot favourite to win the Oscar for best actor for Lincoln.
"To be compared with the great inspirational Daniel Day-Lewis is a tribute in itself, so to win this award, I'm overwhelmed," Jones said.
The Peter Sellers award for comedy was presented to the black comedy Sightseers, directed by Ben Wheatley.
Wheatley, who won most promising newcomer at the ceremony two years ago, joked: "What's brilliant about this is that I have two of these [awards] now and I can stack my books between them."
This year's award for most promising newcomer went to Sally El Hosaini for My Brother the Devil, about gang culture and family loyalty on a London council estate. The film was premiered at the BFI London Film Festival last year, where El Hosaini also won a best newcomer prize.
In his review at the time, the Evening Standard's critic Derek Malcolm called it "a triumph for all concerned".
He wrote: "There isn't a single poor performance among the cast, nor are there many moments when the film doesn't feel authentic".
The Imposter, a real-life tale of a missing American boy and the foreign-accented man who - years later - claimed to be him, was named best documentary. It was directed by British filmmaker Bart Layton.
The Editor's Award was presented to Sacha Baron Cohen, "for making an event of every one of his films".
The comedian, who created characters including Borat and Ali G, has most recently been seen in the film adaptation of hit musical Les Miserables.