Robert De Niro cemented in Hollywood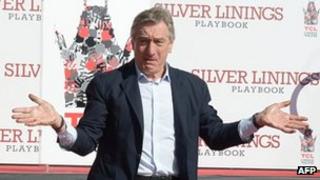 Robert De Niro is the latest star to have his hand and footprints set in cement outside the famous Chinese Theatre in Hollywood.
"Joe Pesci always said I'd end up with my feet in cement - I don't think this is what he had in mind," the actor joked, referring to his co-star in the mob movie Goodfellas.
The 69-year-old joins the likes of Brad Pitt and Jonny Depp with the honour.
De Niro is Oscar nominated for his role in Silver Linings Playbook.
Speaking at the ceremony, the actor said: "I'm am New Yorker - it's where I was born, it's where I live, it's where I raise my kids, it's where I started [the Tribeca] film festival. It's home. But Hollywood is home too.
"They say everyone in the film industry has three homes - the home where there live, the home where their first wife lives and Hollywood."
"I love New York, and I'm proud to be a citizen of Hollywood. Thank you for this honour and thank you for making feel at home here."
Billy Crystal, who starred opposite the double Oscar winner in Analyze This and Analyze That, was also on hand to support his long-time friend.
"Even in his darkest performances, even in Raging Bull... he could make you laugh, and that he did in spades in Analyze This," he said.
"I'm not used to playing straight for anybody. But it was a thrill of a lifetime to be on the opposite side of that genius and see how it worked. And just by being with him made me such a better actor."
Silver Linings Playbook director David O Russell was also present at the ceremony, where he praised De Niro's sensitivity in taking on the role of the father of a bipolar son in his film.
"When we first read the script together he cried because he has known people who struggled with post-traumatic stress disorder (PTSD) or bipolar disorder," he said.
"Many families are no stranger to these challenges and they have to find the magic and the love that Bob brought in his soul, and he did bring his soul to this movie."
De Niro is up for a best supporting actor Oscar for his role in the film, alongside Argo's Alan Arkin, Philip Seymour Hoffman for his role in The Master, Lincoln's Tommy Lee Jones and Christoph Waltz for Django Unchained.
The star won Oscars for his lead role in Raging Bull in 1981 and his supporting turn in The Godfather: Part II in 1975.