Kiefer Sutherland to receive Hasty Pudding Man of The Year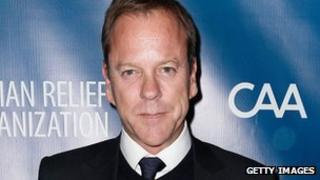 Kiefer Sutherland has been named Man of the Year by Harvard University's Hasty Pudding Theatricals.
The 24 actor will receive his ceremonial pudding pot at a ceremony scheduled for Friday.
Earlier this month, Oscar-winning French actress Marion Cottilard was named Woman of the Year.
Sutherland, the son of Hollywood star Donald Sutherland, is best known for his Golden Globe-winning role as counter terrorist agent Jack Bauer.
The 46-year-old began his career as a neighbourhood bully in the coming-of-age drama Stand By Me, directed by Rob Reiner.
He went on to star in cult films such as The Lost Boys and Young Guns.
He is currently starring in the US TV show Touch.
Last year's Man of the Year - award annually by the US' oldest undergraduate drama troupe - was comedy actor Jason Segel.