Imogen Heap project receives digital arts funding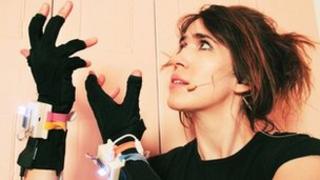 The Royal Opera House and the Imperial War Museums are among the first recipients of a £7m fund that aims to bring together the arts, technology and research sectors.
Both have successfully applied to the Digital R&D Fund for the Arts, designed to support innovative digital projects.
Another grant will go to Script, a London-based music and content agency.
The company proposes a "mobile-friendly app-album" featuring Grammy-winning musician and performer Imogen Heap.
According to the fund's organisers, the project will link up artists and their back catalogues with film, theatre and animation producers to "explore how mobile music apps can change an artist's interaction with their fans and might offer new revenue streams".
The Royal Opera House scheme seeks to develop an "alternative and sustainable" way of creating mobile applications that will "encourage new audiences to enjoy rich media content about ballet and opera".
The Imperial War Museums, meanwhile, are working with the Historypin website on a scheme that will invite the public to contribute information about and responses to its collection of World War I paintings.
Each project can request up to £125,000 from the £7 million fund, a partnership between Arts Council England, the Arts & Humanities Research Council and the charity Nesta (National Endowment for Science, Technology and the Arts).
The first nine successful applicants were announced at a forum in Manchester on Wednesday, held to discuss collaborative technology relationships, risk-taking and knowledge-sharing in the arts.