Reg Presley: Troggs tribute to 'brilliant' singer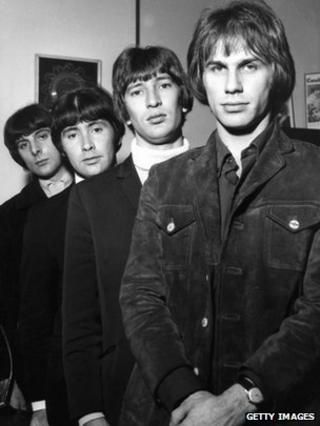 Troggs guitarist Cliff Britton has paid tribute to the band's "brilliant" singer Reg Presley, who died on Monday.
"He's one of those people who, once you knew him, you never forgot," he told the BBC. "He'll always be there."
Britton, who played on hits like Wild Thing and Love Is All Around, also recalled the "wonderful experience" of touring with Presley in the 1960s.
Even when faced with Irish fans who ripped off his clothes, "it didn't stop him doing the gig", he said.
"It was back in the days where the girls used to go a little bit frantic," Britton remembered.
"We had to run the gauntlet from the back of the theatre to the stage. And by the time Reg got to the front, his shirt consisted of a collar and a row of buttons down the front.
"No sleeves, no front, no back. Nothing."
More memorable moments came on a 1968 tour of North America with The Who.
"That was a jolly good time - although Keith Moon was a bit unpredictable.
"We were playing in Toronto and it was absolutely steaming hot. Keith emptied out the fridge and was charging everyone a dollar to get in line and go in the fridge to keep cool."
The weather led to another wardrobe disaster for the rock band.
"We'd bought these frilly purple satin shirts," said Britton, "but it was so hot we became like versions of the Incredible Hulk! The shirts shrank while we were playing and the buttons started to pop off.
"That was an idea that didn't carry on much longer."
Presley's last gig with The Troggs was in December 2011. He became ill on stage and, after going to hospital for tests, was diagnosed with lung cancer.
"He was performing alright but you could tell something wasn't quite right," said Britton of the show, in Germany.
"When we got back and talked about it, we realised we should really have not gone to do the gig in the first place, because he was showing signs of being tired and confused on the way."
Britton, who had known the singer since they joined the same Boy Scout troop as children, said the cancer diagnosis came "as a shock to all of us".
"He was a very positive character, he had a weird and wonderful sense of humour. A good bloke, and a very reliable bloke to work with."
Presley kept in touch with his bandmates "right up to the last", and went to see them perform a set with singer Chris Allen shortly before Christmas.
"Reg was singing along in the wings," said Britton.
"It was very nice to have him there."