Spider-Man: Turn Off The Dark plans autism-friendly show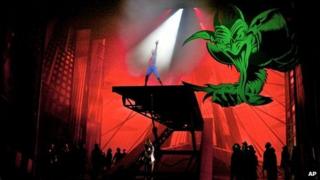 The first autism-friendly performance of Broadway hit Spider-Man: Turn Off the Dark is to take place in April.
The show has been organised by the Theatre Development Fund (TDF), which aims to provide theatre access for all.
Slight adjustments will be made to the production to make it more comfortable for people with autism spectrum disorders, including a reduction of jarring sounds and strobe lighting.
The performance will take place on 27 April, during Autism Awareness Month.
The special matinee was arranged after a TDF survey found it was the show families most wanted to take their children to.
TDF said the show would be performed "in a friendly, supportive environment" for families and friends of children and adults who have autism.
The theatre lobby will also feature designated quiet and activity areas, staffed with autism experts, should anyone need to leave their seat during the performance.
The Spider-Man performance is the fifth show the fund has put on as part of its autism-friendly scheme.
"Watching families experience live theatre together for the first time in an environment that was safe and supportive is a truly emotional and gratifying experience," executive director Victoria Bailey said.
"We could never do this without the co-operation of everyone involved in the productions from the producers to the ushers."
TDF - which is exclusively selling tickets to the show at Foxwoods Theatre - said it would offer them at a reduced rate of $35-$80 (£22-£51) instead of their usual $49-$135 (£31-£86).
Previous Broadways shows to have taken part in the scheme include The Lion King, Mary Poppins and Elf: The Musical.