Alec Guinness diaries go public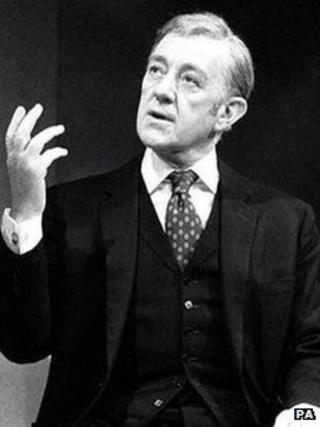 Sir Alec Guinness's personal letters and diaries will be available to the public for the first time next year.
The British Library has acquired the personal archive of the Oscar-winning actor, best known for his roles in Star Wars and the Ealing comedies.
The archive includes more than 100 volumes of diaries and letters recording his career as an actor from the late 1930s to his death in 2000.
It also charts his wartime experiences and the death of Sir Laurence Olivier.
Writing in his diary on 12 July 1989, the day after Sir Laurence's death, he wrote:
"His 'I defy you, stars' in Romeo was memorable. And so was his Poor naked wretches etc in Lear. But his famous howl in Oedipus I thought just tiresome.
"He knew every trick of the trade and used every one, including, when he made his first entrance the lights coming up a few points and going down again when he left.
"He was always very conscious of the audience - and his own powers over them. I'm not sure he was an artist but he was total actor - a giant among actors."
Guinness's papers join those of Sir Laurence and fellow actors Sir John Gielgud and Sir Ralph Richardson, which already form part of the Library's collection of great 20th century theatrical knights.
Cataloguing of the archive is due to take place this year, with the papers expected to be available in 2014.
Among the 900 of Sir Alec's letters to family and friends, highlights include a note to his wife, written during the opening night of the 1938 Old Vic season which established his reputation.
The actor began his career in theatre, but found fame around the world with his film work including Ealing comedies such as The Lavender Hill Mob, The Ladykillers and Kind Hearts and Coronets - in which he played eight roles.
He later formed an ongoing collaboration with director David Lean, appearing in six of his films including The Bridge on the River Kwai, for which he won the best actor Oscar.
Later generations recognised him for his part in the Star Wars trilogy, as Obi-Wan Kenobi, and as George Smiley, in the TV series Tinker, Tailor, Soldier, Spy and Smiley's People.