Oscars: best foreign film contenders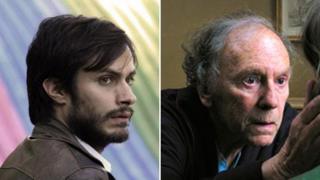 Each year Oscar organisers try to identify the best movie around the world not in the English language.
The lengthy and complex selection process has sometimes been criticised for producing stodgy and unadventurous shortlists. But this year's nominees are a varied and interesting bunch.
There's a clear favourite to win the Academy Award for best foreign language film this time - based on its spread of nominations alone, Amour is already an Oscar hit.
Michael Haneke's keenly observed love story is also up for best picture, best direction, best actress in a leading role (for 85 year-old Emmanuelle Riva) and best original screenplay.
Not many titles nominated as best foreign language film ever break out into general categories, the rare examples have included Life is Beautiful (1998) and Crouching Tiger, Hidden Dragon (2000).
But all five titles on this year's list - whittled down from 71 submitted by national film organisations - are strong. There's no representation from Africa or Asia, but the Academy of Motion Picture Arts and Sciences point out that the purpose of the category is to identify great cinema, not to distribute nominations evenly throughout the world's film-makers.
Four of this year's five nominees are based on historical or political events, the exception being Amour.
AMOUR
Country: Austria
Language: French
Austria's track record: Three Oscar nominations including a win in 2007.
Director: Michael Haneke
Story: Georges and Anne are an elderly married couple living in Paris. Anne's health falters and the couple take on a care assistant who proves unsatisfactory. Anne becomes increasingly bed-ridden and Georges must care for her as best he can.
Could it win? The film took the top award last year at the Cannes Film Festival. It was Haneke's second Palme d'Or and for many, the 70 year old is Europe's most accomplished film-maker.
The storyline sounds depressing but Haneke creates a graceful and at times uplifting portrait of two old people whose love is both difficult and intense. The performances of Riva and co-star Jean-Louis Trintignant are attractive. The points in the story where realism turns to fantasy will disturb audiences less than other Haneke films such as Funny Games.
KON-TIKI
Country: Norway
Language: Norwegian
Norway's track record: Four nominations but no wins.
Directors: Joachim Roenning and Espen Sandberg.
Story: The real-life story of Norwegian explorer Thor Heyerdahl and his journey across 8,000 km (5,000 miles) of the Pacific Ocean in 1947. Heyerdahl develops a theory, contradicting most other ethnologists, that ancient civilisations could have travelled great distances by raft. His resolute self-belief means he can persuade others to accompany him on the perilous ocean voyage to French Polynesia to prove his theory.
Could it win? A well-crafted film from the joint directors of Max Manus: Man of War. English producer Jeremy Thomas ensured international appeal and the fact producer Harvey Weinstein picked it up for the US market has helped it onto this year's short-list. (A version in English already exists and was shot in parallel with the Norwegian original.) The film looks good but on screen Heyerdahl is a slightly unsympathetic character.
NO
Country: Chile
Language: Spanish
Chile's track record: It is the country's first Oscar nomination.
Director: Pablo Larrain
Story: Based on events in Chile in 1988, General Augusto Pinochet calls an unexpected referendum on his presidency, aiming to prove to the world he is not the ruthless dictator his critics claim. Opposition parties appoint high-powered ad man René Saavedra (Gael Garcia Bernal) to create a TV campaign for their No campaign. Can he sell a political idea the way he sells cars and soft drinks?
Could it win? It's been given extra international profile by the highly marketable presence of Bernal, even in his glumly unsmiling mode as here. The decision to shoot entirely on an 1980s video format pays off once or twice in incorporating archive footage, but will tax the patience of audiences. Yet Academy members like films about film-making, which is what essentially this is.
A ROYAL AFFAIR
Country: Denmark
Language: Danish
Denmark's track record: Eight nominations including wins in 1987, 1988 and 2010.
Director: Nikolaj Arcel
Story: Based on historical events in Denmark in 1768, German Johann Streuensee (Mads Mikkelsen) becomes the physician to the erratic King Christian VII. Streuensee begins a relationship with the queen while at the same time encouraging the king to defy his conservative counsellors and liberalise his nation. But the "royal affair" leaves the doctor vulnerable.
Could it win? The story will appeal to lovers of well-acted historical drama. The Danish locations are sunnily attractive and Mikkelsen is always terrific, giving the story emotional depth. But mainstream Oscar votes are more likely to go to Amour.
WAR WITCH (also known as Rebelle)
Country: Canada
Language: French
Canada's track record: Six nominations, including a win in 2003.
Director: Kim Nguyen
Story: A tough look at life in a war-battered region of Africa, shot with an African cast in the Democratic Republic of Congo (though the screenplay never identifies a specific country). Fourteen-year-old Komona relates the often violent events of her life so far and after surviving a horrible ethnic massacre, the leader of a rival group takes a liking to her. Villagers start to believe Komona possesses magical powers and she strikes up a friendship which seems to offer a way forward.
Could it win? Though the Canadian label is slightly confusing, the film may appeal to Academy voters who think the best foreign language category ignores Africa. But some scenes, especially in the first half hour, are horribly violent and hard to watch. There is a hint of salvation at the end, but mainly the story is a grim one.