Doctor Who actor Matt Smith to star in Ryan Gosling film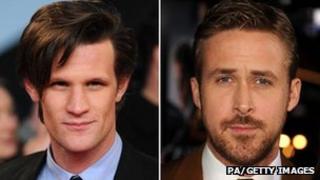 Matt Smith is to make his US acting debut in a movie written and directed by Ryan Gosling, the Doctor Who star's publicist has confirmed.
The film, How To Catch A Monster, will mark Smith's first American production - as well Gosling's first foray behind the camera.
According to its website, the project will weave "fantasy noir, horror and suspense into a modern-day fairytale".
Eva Mendes and Mad Men star Christina Hendricks will also appear.
Gosling acted alongside Hendricks in 2011 thriller Drive, while Mendes plays his girlfriend in upcoming release The Place Beyond the Pines.
In the new film, Hendricks will play Billy, a single mother of two who is swept into a dark fantasy underworld when her 18-year-old son discovers a secret road leading to an underwater town.
The name of Smith's character is as yet unconfirmed, although according to industry newspaper Variety the 30-year-old will play the male lead.
It is possible that he has been cast as Bully, described as a "dark and sinister character" on the film's casting website.
Canadian star Gosling was Oscar-nominated for his role in 2007 drama Half Nelson and was seen earlier this year in period crime yarn Gangster Squad.
Shooting on his first directorial venture is set to begin in May in Detroit, Michigan.
Smith recently finished filming the latest season of Doctor Who, which will begin on BBC One at the end of March.
The actor recently made his own directorial debut, shooting the short film Cargese for the Sky Arts series Playhouse Presents that will have its premiere in April.
David Tennant, the previous Doctor, also found opportunities arise across the Atlantic following his time in the Tardis.
The Scottish actor appeared in 2011 horror remake Fright Night and made a pilot episode for a legal drama, Rex Is Not Your Lawyer, that was not "picked up" by a US network and turned into a full series.