RSC returns to Newcastle after cuts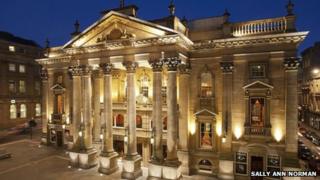 The Royal Shakespeare Company (RSC) is to take a season of plays to Newcastle, two years after its annual visits were scrapped due to funding cuts.
The company had sent a season to the city every year from 1977 to 2010.
It is returning for a three-week residency at the Newcastle Theatre Royal in October and November.
It will take Hamlet, All's Well That Ends Well and As You Like It, the score for which is being composed by folk singer Laura Marling.
"Our special relationship with the north east of England is a source of great pride to the company," said the RSC's artistic director Gregory Doran.
"The audiences in Newcastle are wonderful and the actors enjoy their time performing in this great cultural city very much."
"The RSC is a wonderful, and truly iconic company," said Philip Bernays, chief executive of the Theatre Royal.
"It is an honour to have it back at their northern home."
The announcement comes as the Theatre Royal and other Newcastle venues face uncertainty over their funding, following a city council announcement that it plans to scrap its arts budget.
The RSC season will not be on the scale of previous years, when the company would take over multiple theatres in the city.