Bafta shares the love at film awards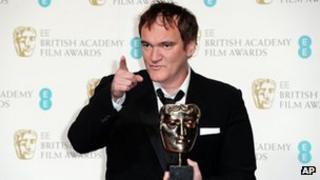 This year's Baftas proved to be a night where not one film dominated as some big hitters, including Lincoln and Life of Pi, failed to win big.
Lincoln picked up just one award - predictably for Daniel Day-Lewis as best actor - despite receiving 10 nominations.
Perhaps that was to be expected - a film about a US president was never going to be as popular with British voters as it would be with American ones (watch this space for the Oscars).
And Ang Lee's adaptation of novel Life of Pi only won two out of a possible nine awards - best visual effects and best cinematography.
Musical Les Miserables was the biggest winner of the night with four awards out of a possible nine. But three of those were in the less weighty technical categories: production design, sound and make up and hair.
Anne Hathaway was a favourite to win best supporting actress but said backstage that she was "so surprised" when her name was read out.
"It's my third film in the UK in three years... I've had the most divine experiences and gotten to work with the best of the best."
It was Amour's Emmanuelle Riva who was the big surprise of the night, winning the Bafta for best actress. It was just a shame she couldn't be there to collect it.
The 85-year-old also became the oldest person to win an acting Bafta, beating the record set by last year's best supporting actor winner, Christopher Plummer.
Amour also won best foreign film but again, director Michael Haneke was absent.
Argo continued apace with Ben Affleck - controversially overlooked for a best director Oscar nomination - winning the equivalent Bafta, with his movie also winning the best film prize.
Backstage, Affleck said: "We feel so grateful, I've never been here... to actually win feels incredibly welcoming."
Of the move from acting to directing, he said: "People are sceptical, you have to prove yourself - there have been situations where I was over-exposed... but every movie you start at zero, you start again."
For the last three years, Bafta has picked the film that went on to win best picture at the Academy Awards, which bodes well for Affleck's film about the rescue of American hostages in Iran.
George Clooney, one of Argo's producers, described it as "a thrilling night for us".
The film, which has enjoyed success at the Golden Globes, the SAG awards and the Directors Guild of America awards, also won a Bafta for best editing.
But it wasn't just the Americans having all the fun. Bond movie Skyfall won both outstanding British film and original music in the series' 50th anniversary year.
Like Oscar, Bafta has never been much of a Bond fan - the franchise has had plenty of nominations over the years but only one win, and that was for Ted Moore's cinematography in From Russia With Love in 1963.
Director Sam Mendes said: "It's the icing on the cake... here's to the next 50 years."
He added that he would consider making another Bond film.
"If I feel I'm the best person to tell the story, then I'll do it."
Film fans' favourite Quentin Tarantino also celebrated as he picked up the original screenplay Bafta for his western slavery epic, Django Unchained.
Christoph Waltz, who stars as a bounty hunter in the film, was emotional as he paid tribute to his director backstage.
"It's a continuation of a beautiful friendship... if he (Tarantino) has a part for me, I will play it."
Tarantino repaid the compliment: "He's amazing, we're really lucky to find each other."
He hinted at a further revenge movie following the success of Inglourious Basterds and Django.
"There's something about this that begs a trilogy... I don't know what yet but I wouldn't be surprised."
Pixar's Brave won best animation, which could point to an Oscar win later this month in the same category.
'Removing stigma'
"It's great when you do win... dreams come true, there is that validation by your peers," said one of the film's co-directors, Mark Andrews.
David O Russell was rewarded with the best adapted screenplay prize for Silver Linings Playbook, but hotly tipped Oscar contender Jennifer Lawrence and her co-star Bradley Cooper missed out in the acting categories.
The film is about a man with bipolar disorder who forms a relationship with a woman who has recently been widowed.
Russell, who made the film for his son who has bipolar disorder, said: "I know it personally from the inside... (it's about) removing the stigma."
Host Stephen Fry, who has spoken publicly about his own experience of bipolar disorder, paid tribute to Russell after he left the stage.
Fry said the film "de-stigmatises without being preachy, and allows itself to be funny as well as truthful".
While Fry briefly dropped his jovial persona to concentrate on more serious matters, it was left to Tarantino and Hathaway to contemplate the trivial (or not so trivial, depending on your point of view).
Namely, where to put your Bafta.
"My awards are on one big shelf," Tarantino told the media. "But do I put it next to my other Bafta or on the other side?"
Hathaway, on the other hand, had a much more glamorous location in mind: "I think I'm going to get a tool shed and put it in my garage."