Africa TV series edited over climate change comment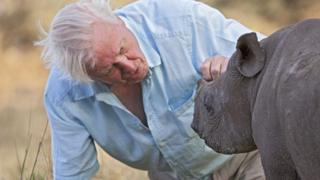 The BBC has re-edited the final episode of David Attenborough's nature series, Africa, on BBC One to remove a piece of commentary about climate change.
In the original programme, broadcast on Wednesday, Attenborough said: "Some parts of the continent have become 3.5 Celsius hotter in the past 20 years."
However, the BBC admitted the comment was "disputable".
A decision was taken on Saturday to remove it from the repeat programme and the iPlayer version.
The concluding sixth episode in the BBC's flagship nature series, narrated by the veteran broadcaster, asked what the future holds for the world's wildest continent.
To explain the pressures many endangered species face from humans, Attenborough came face-to-face with a baby rhinoceros in Kenya, whose horn had been removed to protect him from poachers.
'Detail is disputable'
The presenter then commented on the additional challenges presented by climate change, adding that parts of Africa now face higher temperatures.
However, a BBC statement, said: "There is widespread acknowledgement within the scientific community that the climate of Africa has been changing.
"We accept the detail is disputable and the commentary should have reflected that, therefore the line of commentary has been edited out of Sunday's repeat and iPlayer version removed."
The BBC confirmed that the claim came from a 2006 paper by the Working Group on Climate Change. The footnotes included with the report said that the figure was taken from another report by Christian Aid.
It added that the research was carried out by a member of the production team, not Attenborough.
The BBC removed the piece of commentary after it was contacted by a journalist from the Guardian newspaper.
In 2011, the BBC denied misleading viewers of Attenborough's frozen planet series with footage of newborn polar bear cubs filmed in an animal park, rather than in the wild.
Episode five of the series featured the cubs in a den with their mother, with many people assuming they were born and filmed in the Arctic.
But the cubs were actually in a Dutch animal park, as was revealed in behind-the-scenes footage on the show's website.