Mr Selfridge edges out Baftas in ratings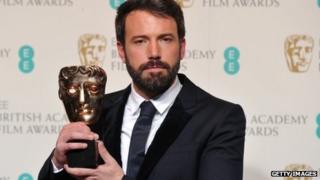 This year's Bafta Awards on BBC One pulled in their highest ratings since 2004, but were unable to edge out competitor ITV's Mr Selfridge.
An average of six million viewers tuned in to the popular period drama between 21:00 and 22:00 GMT on Sunday.
But the two-hour film awards, hosted by Stephen Fry, drew an average of 5.4 million from 21:00 GMT - up slightly from 5.3 million in 2012.
But neither show could match the appeal of BBC One's Call The Midwife.
Starring Miranda Hart, the drama, which the BBC has commissioned for a third series in 2014, averaged 8.8 million viewers between 20:00 and 21:00 GMT, making it the most watched show of the night across all channels.
It peaked at 8.9 million viewers mid-way through, compared with a peak audience of 6.2 million for both the Baftas and Mr Selfridge, according to overnight TV ratings figures.
Mr Selfridge gets second series
However, despite winning the 21:00 GMT slot and edging out the Baftas, Mr Selfridge, starring Jeremy Piven as the American entrepreneur Harry Gordon Selfridge, scored with its lowest audience of its run.
A ratings hit for ITV, the first season has been averaging 8.5 million viewers per episode and has just been commissioned for a second series.
Filming for the 10 new episodes will begin in April ahead of a premiere in 2014 to coincide with the centenary of the First World War.
Sunday's Baftas were the most successful in a decade. The 2003 audience of 5.9 million dropped to 4.5 million a year later, when the ceremony was cut in half for the evening news.
Recent years have seen ratings recover as the show is broadcast in a single transmission.