Gin Wigmore interview: From Auckland to Bond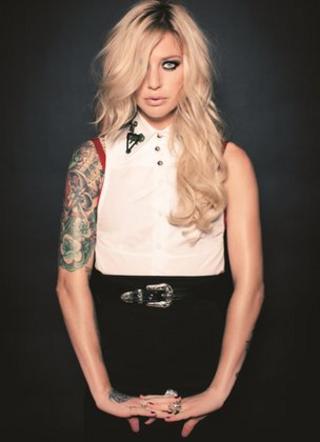 She's only 26, but Gin Wigmore has already acted alongside Daniel Craig and recorded in Frank Sinatra's studio.
The New Zealander got a start in music 10 years ago when Hallelujah, a song she had written in memory of her father, won the prestigious International Songwriting Competition.
She went on to be signed, then dropped, by Motown. But when her first album, Holy Smoke, eventually came out, it went four-times platinum in her home country.
The follow-up, Gravel and Wine, was recorded across America's deep south and showcases a smouldering, bluegrass-inspired pop sound.
You may already have heard the first single, a bawdy barrelhouse stomp called Man Like That, which became the theme to a James Bond advert late last year.
A whirlwind of energy, Wigmore's every sentence ends with a 72-point exclamation mark. She talked to the BBC about her unconventional road to fame.
Your real name is Virginia. Who first called you Gin?
Oh God, I can't remember! I know I was Ginny when I was six or seven, and then somewhere there was a turning point. It could have been when I got busted drinking wine down the park with a tattoo on my back!
I still get called Virginia by my mum, though. She has not transitioned into Gin. She does not like it one little bit.
What's your first memory of home?
Dinner parties. My parents owned the local chemists so they had a little bit of notoriety. They had these Christmas parties and they'd wheel out chocolate eclairs and brandy snaps and then play music. Everyone would gather round the piano and sing Oh Holy Night, and then I'd get up aged eight and sing Castle In The Clouds. Everyone used to think I was amazing. At least, that's my memory.
So that was your first public performance. What was the first concert you went to?
It was Moby, and it was in my local gym where I used to play netball. I look back and think that must have been a very strange venue for him.
How did you end up entering an international songwriting competition aged 16?
I'd written two songs. One was called Angelfire and it was pretty rough. A whiny teeny angsty emo song. But I also had a song called Hallelujah, about my father. I played it to my family and my sister, and she said: "I think you should enter those songs into this international songwriting competition".
A couple of months later we got a call from a woman in Nashville, Tennessee telling me I'd won the grand prize - and I was the youngest person ever to have won. So she was like, "you need to get on a plane and come to Nashville, and you've got a scholarship at Berkley".
That's a life-changing phone call.
And I was busy making lemon meringue pie at the time! I was in Taranaki with this beautiful boyfriend, and I was so concerned about burning the meringue I actually hung up on her!
And then you went to Nashville. Was that your first trip abroad?
I'd been to Argentina when I was about 16 on an exchange for a school programme, which I quickly bailed out on. They sent me to an all-girls school run by nuns and it wasn't my cup of tea. So I got out and I finished it off in Buenos Aries doing snowboarding and gallivanting around.
So it was no big deal going to the States - but at the same time I felt I was far too young to go there and make a record aged 17. I wanted to grow up. I didn't want to miss birthday parties and getting drunk on two glasses of wine. I wanted to make sure I had my youth.
Not many 17 year olds would be able to resist the lure of making a record in America. Look at the X Factor - some of the contestants are 14.
But that's sad. I look at my life now and working in music is all-consuming. You're a slave to your job. You have to go to other countries and leave at split-second notice. When you're young you need to be silly and be stupid and not be trying to do that when you're 40 in a red sports car.
So what did you do?
I just thought, more than anything, that to be a musician you need to be out there playing gigs and failing at them. Trying to put bands together. Living, having break-ups.
What were the failures?
I was in a band in Auckland and I remember they all hated me. They had a big intervention. They said, basically, "Gin we think you suck". I was miserable. I cried and cried. But looking back, that taught me about social skills and how to communicate with musicians. It was really important but at the time it was horrible.
You were signed to Motown at one point. How did that come about?
That was surreal. It didn't seem like a natural fit - but they were like, "Gin, it's your music, stop getting so concerned". But I kept asking "Why me? I'm a little white girl".
And what happened? Did they eventually ask themselves the same question?
I think so!
No, the label just ceased for a while. It's come back now, with Ne-Yo running it, so it's a very rap and R&B thing.
Gravel and Wine has a Deep South, dirty blues sound. What's the connection between that music and your upbringing in New Zealand?
I don't think there is much connection! Before I went out there, I had this idea that the blues was just miserable stories. I thought, "well, I'm a bit miserable, therefore I can write a blues record". That was pretty naive, to be honest. When I went to Memphis and Mississippi and Nashville, I learnt the blues is a whole way of life. I don't really have the blues, but I can appreciate the honesty and the simplicity of it.
You could have had a song called "I got the 'I ain't got the blues' blues".
Well, I was in this juke joint [traditional music bar] and I was like, "Hello! I'm from New Zealand and I'm here to write a blues record!". They pretty much laughed me out of the joint. One of them said, "Baby girl, if you can afford to come all the way from New Zealand to Clarksdale, Mississippi, you ain't never got the blues".
Is it true you met Al Green when you were making the record?
Ah, I went to the Reverend Green's church in Memphis and he happened to be taking the service that day. That was pretty epic. He came out and said, "sorry, my voice is a bit rusty today" and then bust out into the best songs I've ever heard in my life.
And what about your Bond association?
Ah, what a hero. Goldfinger is my favourite film of all time. Old school with a twist.
Now that you've been in an advert with Daniel Craig, you're essentially a Bond girl by proxy.
Oh, can I be? Please? I don't think my boobs are big enough! But maybe I could wear one of those cooking aprons with the naked bodies on them.
You filmed the advert in Shepperton studios. Was Daniel Craig there or was he added with CGI later?
No, he was actually there in the flesh. He arrived all fancy in his Land Rover and then he left after two hours. The rest of us plebs were hanging around for days trying to get on film.
With that experience, you must be a shoo-in for the next Bond theme?
Can you do that as a New Zealander? Don't you have to be British? Oh, maybe not - 'cos Carly Simon did the best Bond theme ever. So, yes, I'd love to do that. That would be really cool.
Gin Wigmore's album is out now on Polydor. You can hear her in session on Dermot O'Leary's show on the BBC Radio 2 website.