Mark Ravenhill's Royal Shakespeare Company role extended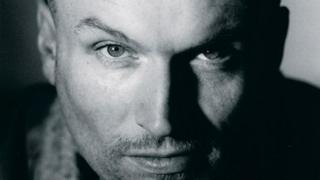 Playwright Mark Ravenhill has confirmed he will spend a second year as writer in residence at the Royal Shakespeare Company (RSC).
The writer said his role will continue at least until the end of the 2013.
"I think the RSC likes me to be around because I do ask questions and I do challenge things," he told the BBC.
Ravenhill was speaking on the opening night of his version of Bertolt Brecht's A Life of Galileo in Stratford-upon-Avon.
The play stars Ian McDiarmid - returning to the RSC after an absence of 27 years - as the 17th Century scientist who challenges the Catholic church with his assertion that the Earth orbits the Sun.
In a quirk of timing, the play's multiple references to a new Pope have been given extra resonance by recent events in the Vatican after Pope Benedict XVI announced his resignation.
Speaking about his translation, Ravenhill said: "There is a springiness and a comic sensibility in Brecht's language which I think we've often overlooked."
The playwright told the BBC his writer in residence post at the RSC would be reviewed annually.
"I've enjoyed it, they've enjoyed it - so we've decided to make it a rolling thing, and at the end of every year we'll sit down and see how's it's working and carry on as long as it's beneficial to me and to them."
As part of his residency last year, Ravenhill wrote a sonnet for Shakespeare's birthday - to mark the launch of the World Shakespeare Festival.
That work has inspired something more ambitious this year.
Ravenhill will write a "sonnet cycle" to mark the 400th anniversary of the Globe theatre burning down in June 1613.
A cannon fired as a special effect during a production of Henry VIII ignited the Globe's thatched roof and razed the playhouse to the ground.
Ravenhill's second RSC play commission is a new work inspired by Voltaire's Candide, which will run at Stratford's Swan Theatre from the end of August.
"It'll be nice to think I can stay and do a series of new plays for the company for a few years," Ravenhill said.
"There's something very special about writing for an ensemble of actors, and getting to know the audience in Stratford is an interesting thing."
Ravenhill, whose often controversial works include Mother Clap's Molly House at the National Theatre, believes he has confounded the expectations of some at the RSC.
"I think those that didn't know me - those who were expecting somebody very truculent and aggressive - have been pleasantly surprised to find that I'm on the team.
"But I do have an outsider's eye. I've been told it's that combination that they like and that's why they're keen to have me around."
Ravenhill's projects outside the RSC include a libretto for the Norwegian National Opera and ITV sitcom Vicious, starring Sir Ian McKellen and Sir Derek Jacobi as a bickering gay couple.
Directed by Roxana Silbert, A Life of Galileo runs at The Swan Theatre until 30 March.