Long wins Hatchet Job award for scathing Cusk review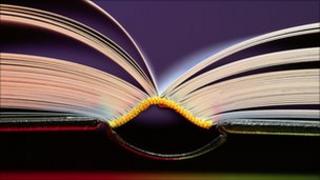 A Sunday Times reviewer who dismissed award-winning novelist Rachel Cusk's divorce memoir as "vague literary blah" has won Hatchet Job of the Year.
Camilla Long described Aftermath: On Marriage and Separation, as "quite simply, bizarre," in the piece published in March 2012.
She called Cusk a "peerless narcissist" saying the book was full of narrative gaps with "acres of poetic whimsy".
Long said she hoped the award would encourage "wild, exciting criticism".
Her award included a golden hatchet and a year's supply of potted shrimp from the award's sponsor, a fishmonger.
Cusk's book was published last year to generally negative reviews, although The Daily Telegraph found it "full of beauty" and The Independent complimented Cusk for her "honesty, courage, and the ability to depict her experiences in exquisitely crafted language".
However, Long described it as "a needy, neurotic mandolin solo of reflections on child sacrifice and asides about drains".
'Trenchant review'
"She tramples anyone close to her, especially [her husband] Clarke, whom she has forced to give up his job in order to look after the kids," she wrote.
Last year's inaugural winner of the "angriest, funniest and most trenchant review" went to Adam Mars-Jones for By Nightfall by Michael Cunningham, published in the Observer.
This year's finalists included attacks on two of Britain's most eminent novelists, Martin Amis and Salman Rushdie.
Ron Charles' review of Amis' satirical saga Lionel Asbo in The Washington Post described the book as a "ham fisted novel" full of "blanched stereotypes".
In the New York Review of Books, Zoe Heller was scathing in her assertion of Rushdie's memoir Joseph Anton, saying: "The world is as large and as wide as it ever was; it's just Rushdie who got small.''
The Hatchet Job award was established by literary website The Omnivore "to encourage fearless and honest reviewing".
Organisers insist they only pick on established writers strong enough to take the criticism.