Homeland writer Meredith Stiehm pens new series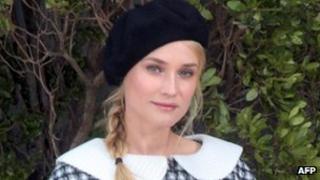 A lead writer on award-winning terrorism thriller Homeland has been given her own US TV series.
Meredith Stiehm's The Bridge centres around a body found on the Texas-Mexico border and will star Inglourious Basterds actress Diane Kruger.
The series, based on the Scandinavian series Bron, also stars Demian Bichir who is best known for playing Fidel Castro in Steven Soderbergh's Che
The 13-episode first season will premiere in the US on FX in July.
Stiehm, who has written some of Homeland's most memorable episodes, conceded that she may have to leave the hit show to focus on her new project.
She told Entertainment Weekly last month: "I think it's one or the other.
"It's a high-cost problem. It's so hard to get your own series but, at the same time, what kind of idiot leaves Homeland right now?"
It will be the first full television project Kruger has worked on.
In 2010 she guest-starred in an episode of JJ Abrams' sci-fi series Fringe, starring her partner, Joshua Jackson.