Graham Coxon: Blur 'won't record music' this year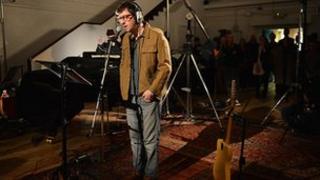 Blur's Graham Coxon has dampened fans' hopes of a new album being recorded by the reformed band in 2013.
"I'm not recording any music but I'm going to do some shows with the big band - Blur - and just go to some fun places and play to some people," he told the BBC.
The band is due to play a European tour after performing a series of comeback shows in Hyde Park last year.
They released Under The Westway - their first single since 2010 - in July.
Guitarist Coxon left the band in May 2002 during the recording of their seventh album, Think Tank.
They headlined Glastonbury in 2009 and last year received a Brit Award for outstanding contribution to music.
"It's been great just to get back to playing stuff and we're playing it well," Coxon said.
"The PAs are so much better than they were - you can hear better, its louder when its allowed to be. It's a great job."
Noise levels
Last year, fans complained that gigs by Blur and other artists like Madonna at Hyde Park were too quiet as a result of noise restrictions imposed by Westminster council.
Crowds at Hard Rock Calling were also left bemused when Bruce Springsteen and Sir Paul McCartney's microphones were switched off during a duet after a concert over-ran.
Coxon said: "I know, its rubbish. They've got these PAs that you could hear on the moon and they're not even allowed to out put them into second gear. It's a bit sad."
The musician was speaking as a group of British artists recreated the recording of The Beatles' debut album Please, Please Me at Abbey Road Studios.
"It must have been incredibly hard work, I love the idea of doing a whole album in a day but the amount of takes they did was amazing," he said.
"I reckon they [The Beatles] were feeling half insane and very frazzled, probably a bit deaf and in need of a few drinks I should imagine.
"It is hard work, listening a lot, singing a lot - its not digging roads or anything but its almost a deep exhaustion you get from playing music."