Birmingham Rep celebrates dramatic century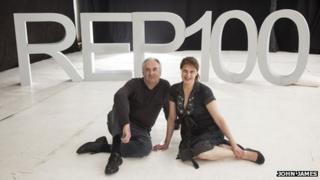 After 3,000 plays in 100 years, what does the future hold for Birmingham Rep?
Over the years, many of the UK's greatest actors - including Laurence Olivier, Peggy Ashcroft, Michael Gambon and Derek Jacobi - have launched their careers at the Birmingham Repertory Theatre.
On Friday, Birmingham Rep launches its 100th birthday festivities with a gala performance of Philip Pullman's I Was A Rat! at its original home at the Old Rep Theatre - a stone's throw from the city's New Street station.
2013 is a pivotal year. As well as the centenary celebrations, Roxana Silbert has just taken up her post as artistic director, ahead of the Rep's move back to its current home in Centenary Square, which has been undergoing major redevelopment.
The area is still a massive building site, where the existing 900-seat theatre (eerily dormant under swathes of dust sheets) is being joined by a new 300-seat studio theatre, two giant rehearsal rooms and lots of swanky new loos.
Importantly, the Rep theatre - and its box office - will share a common entrance with the new Library of Birmingham next door, a massive metallic structure that dominates the city skyline.
"It's a very unique relationship," says Silbert when we meet at the Old Rep on a snowy afternoon after a packed matinee of Rat! "The footfall from the library will be very great and hopefully people will feel that this area of Birmingham is a place they can hang out.
"What is exciting is that, out of this library redevelopment, we've acquired a 300-seat theatre. It means we can do a whole variety of work we couldn't do before.
"Every artistic director that's worked here has wanted that mid-sized space and I'm the lucky one that got it."
It was on 15 February 1913 that Sir Barry Jackson launched his company at the Old Rep on Station Street.
The theatre has seen many landmark moments. A 1923 production of Cymbeline became the first Shakespeare play to be staged in modern dress. In 1926 Laurence Olivier and Ralph Richardson made their professional stage debuts there.
As the new kid on the block, Silbert is keenly aware of the Rep's illustrious legacy.
"Barry Jackson is a real unsung hero of British theatre," she says. "This was the first purpose-built rep theatre in the country and engraved in it is the idea that art should be for art's sake and not for commerce."
The centenary celebrations include a programme of exhibitions, backstage tours and the REP100 digital archive. The theatre has also announced all babies born in Birmingham this week will get an annual ticket for a show for the next decade.
Philip Pullman's I Was A Rat! - a child-friendly comic fantasy - will be followed in March at the Old Rep by Heather Gardner, a new take on Hedda Gabler by Robin French, who relocates Ibsen's classic to 1960s Edgbaston.
"Robin is from Birmingham," Silbert explains. "He wanted to do a classical piece of work but in a version that allowed the accent that he grew up with."
In September, Birmingham Rep opens its autumn and winter season back in its refurbished Broad Street home, its base since 1971.
Silbert has chosen to kick off her first full season with the National Theatre's production of Alan Bennett's comedy, People. "It seemed to me that the NT bringing a show by possibly the country's most popular writer would be a really good benchmark to set."
Birmingham-born musician Soweto Kinch will open the new studio theatre with a staging of his latest album, The Legend of Mike Smith.
In her first production for The Rep, Silbert will direct Mark Williams - star of Harry Potter and the Fast Show - in a new staging of Moliere's satire, Tartuffe.
And in his first stage role at the Rep, Martin Shaw returns to his home city to play the lead role in a new version of Reginald Rose's Twelve Angry Men.
All this comes against a background of funding cuts for regional theatres by both the Arts Council England and local authorities.
In November, Silbert was one of the 23 artistic and executive directors from theatres up and down England who joined Danny Boyle at the National Theatre to discuss the issue.
"Although it's depressing because there's very little money, what we all share is a belief that the quality of the work should be of national standard," she says.
The Rep, along with other arts organisations in the city, could be facing council cuts up to £250,000.
"Birmingham is incredibly vital," observes Silbert. "It's got a lot of fringe activity which I always think is a really good indicator of where you are. It feels like there's a lot of energy but there's also a lot of collaboration.
"It's a very good ecology, and if you cut any part of that ecology you lose something quite vital."
But Silbert is clearly relishing the opportunity of getting stuck into her first full year as the Rep's new artistic chief.
"It's been a brilliant time to start because I've found out so much about the theatre and its legacy - and that forms the way you think about its future."
Philip Pullman's I Was A Rat! is at the Old Rep Theatre until 2 March. Heather Gardner runs 14 -28 March. Alan Bennett's People begins its UK tour at the re-opened Rep from 3 September.