Oscars: Silver Linings Playbook from page to screen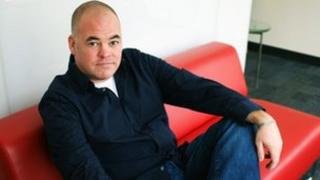 For a novelist, who may have sacrificed years of their life to writing a labour of love, handing a book over to a director to do with as they please can be a wrench.
But Matthew Quick's decision to sell Silver Linings Playbook has paid off, as the film adaptation has reaped multiple Academy Award nominations, with the four lead actors - Bradley Cooper, Jennifer Lawrence, Robert De Niro and Jacki Weaver - all nominated in the four main acting categories, a feat not achieved since 1982.
David O Russell, who is up for a best director Oscar, took on the book - about a man dealing with severe mental health problems - after a long quest to find a story that reflected the life of his son, who has a bipolar disorder.
Quick wrote the book having himself worked with mental health patients, particularly those with head traumas, and having experienced deep depression himself.
Russell says: "It deals with these issues that I've been dealing with, with my son my whole life. To bring it into the light and not be this private thing that we don't talk about it… saying 'look, this is life, we can deal with it'."
The filmmaker kept the central characters but made it very much his own story and Quick had to accept early on that he would have no control over the film.
As such there are marked contrasts, most notably the movie is a comedy-drama while the novel has little light relief.
But both men agree laughter can help people deal with the harsh reality of dealing with mental health problems.
Russell says: "Life is like that, it can also make you laugh, if you don't laugh at this, you won't make it. I would talk about things about my son, it's heartbreaking and it's also hysterical that he did this."
And Quick adds: "I never thought the novel was a comedy per se. When I was writing it, there were definitely times that I laughed and there were times that I cried.
"When I worked in the mental health field, I definitely realised how important laughter was. If you don't laugh at least a couple of times a day in lockdown, you won't make it through the year. You never laugh at the sickness and the people but you laugh at the absurdity of life."
"I loved the film, getting to know David O Russell has been great, but as a novelist and as a former English teacher who loves literature, part of the fun of reading a novel is creating that world in your mind," says Quick.
"And so, why I do love the film and embrace it, I always hope that people will discover the novel first. It will give them the pleasure of creating the characters in their mind.
"This is David's vision of the story and while it's a great version there are a lot of readers out there would prefer to make it in their own mind. That's one of the amazing things about reading."
Quick wrote the book in 2006 and he admits he had long moved on to other stories when he was asked to join the promotional trail for the movie.
"I went and revisited it, not just through David's eyes but as a novel, and I always say that when you write a book it's a snapshot of who you are at that time of your life.
"For me, that was seven years ago, I was a very different person.
"Stuff that I was writing about, although there was a lot of American football in the novel, really it's a story about mental illness and relationships and getting them back on track."
This was the first adaptation Russell had taken on, having previously directed original screenplays including The Fighter and I Heart Huckerbees.
So did Russell feel any sort of responsibility to the author and the novel when adapting it for the big screen?
"No, if it was Harry Potter that would be different, because it's so iconic you have to follow it in some way," he says.
"You take your roadmap and the basic characters and you make them personal, what I relate to. You've got to make it your own thing."
Russell says he can see himself working on another adaptation in the future.
"I'd love it, if you get the right moveable part, if there are all sorts of elements for me that I can embellish. I love it when you get those elements like that. if you get any, send them my way!"
Quick did visit the set on one occasion but found it a rather uncomfortable experience, and never went back.
"It was a great day but I got the feeling that David, who was very kind to me, needed space to tell the story, so I kind of backed off. I was invited back but I didn't go."
The author hopes his next foray into Hollywood will see him more involved in the filmmaking process.
Steven Spielberg's Dreamworks has picked up the rights to his last novel, The Good Luck of Right Now, and Spielberg himself is reading the manuscript to see at what level he wants to be involved in making it.
As part of the deal, Quick will be a associate producer.
He says watching Silver Linings Playbook for the first time, in a screening room with Russell and a whole posse of producer Harvey Weinstein's "people", was a high pressure situation.
"I felt like I was watching it as Matthew Quick 'The Author', as someone who loves Pat (the main character, played by Cooper) and as a David O Russell fan.
"It was very hard to compartmentalise all of it. But I realised we had something special. I knew David had made changes, it was very much his vision, but I really felt that the heart of what I was trying to do was up there on the screen.
"What I was most excited about was that David had continued the conversation about mental health that I had started, in a very respectful way that I knew would resonate with a large global audience. I felt that, in some ways, he made my story that little bit more accessible.
"It has created a gateway drug to the book, which is beautiful."