Lloyd Webber Foundation funds £150,000 pop-up theatre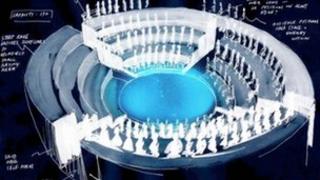 The Andrew Lloyd Webber Foundation has donated £150,000 to a theatre company to build the first ever transportable pop-up in-the-round auditorium.
Paines Plough, the UK's national theatre of new plays, will use the money to build a 111-seat venue which can fit on the back of a lorry.
Foundation trustee Madeleine Lloyd Webber said: "The Foundation is very proud to be funding this completely innovative performing space."
The pop-up theatre will open next year.
Designed by Lucy Osborne, the Roundabout Auditorium is to be built using sustainable materials and will flat pack into a single lorry.
It will take four people eight hours to assemble and is designed to fit in spaces from school halls to car parks.
By comparison, a prototype built by the company last year took 12 people 36 hours to put together.
James Grieve, one of the artistic directors at Paines Plough, which celebrates its 40th anniversary in 2014, said: "We are hugely grateful to The Andrew Lloyd Webber Foundation for its game-changing support of The Roundabout Auditorium.
"We are thrilled the Foundation shares our passion for finding new ways to enable more people around the country to experience new plays.
"Its support [the Foundation] will play a major role in making Roundabout possible, meaning our pop-up in-the-round touring amphitheatre will hit the road with a repertory of three outstanding new plays each year, offering audiences everywhere a unique theatrical experience.
"For years to come, the best new plays will turn up on people's doorsteps in theatres, school halls, sports centres, warehouses and even parks."
Madeleine Lloyd Webber added: "Paines Plough brings excellent theatrical productions to regions across the UK, often to places that have no access to traditional theatres, and we hope the new space will help enhance the work they already do.
"Providing opportunities for everyone to have the chance to experience theatrical events is a priority for the Foundation."
Andrew Lloyd Webber set up the Foundation in 1992 to promote the arts, culture and heritage for the public benefit, with particular emphasis on nurturing artists from all backgrounds and abilities.