Tim Roth makes Broken Britain 'comeback'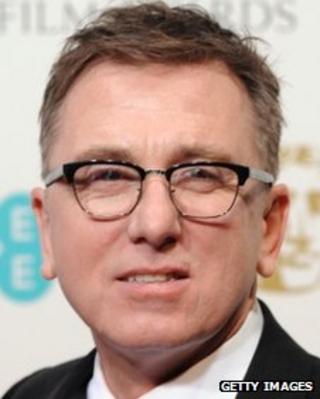 For years, it looked as if the UK had lost Tim Roth to Hollywood. Does his involvement in the British film Broken constitute an overdue return to home turf?
Born Timothy Simon Smith in 1961, London-born Tim Roth was one of the most striking British acting talents to emerge in the 1980s.
Working with such ground-breaking film-makers as Alan Clarke, Stephen Frears, Mike Leigh and Peter Greenaway, he became a poster boy of sorts for some of that decade's most audacious homegrown dramas.
The 1990s saw him relocate to America, thanks in part to his eye-catching role as two-faced thief Mr Orange in Quentin Tarantino's seminal crime thriller Reservoir Dogs.
He has rarely stopped since, juggling collaborations with directors as diverse as Woody Allen, Tim Burton and Francis Ford Coppola with a three-year stint as a crime-solving psychologist in the US TV series Lie to Me.
The general perception is we lost him to Hollywood. Yet Roth has hardly been a stranger, directing one film on native soil - 1999's The War Zone, a harrowing story of sexual abuse - and appearing in several others.
Still, it is tempting to view every return as a homecoming - particularly in the case of Broken, a small-scale tale of three neighbouring families that picked up two prizes at last year's British Independent Film Awards.
"I went where the work was," is how Roth, now 51, explains a thespian career path that has been emulated since by a great many of his fellow countrymen.
"They just kept giving me really interesting jobs to do so I stuck about. It did scare the pants off me, but it was worth doing.
"British actors are everywhere over there now - spit and you'll hit one. But when I went out there first there were very few of us.
"In a way our timing was good. When I arrived the indie thing was just about to happen, so I got into that and ran with it for a few years."
The 'indie thing' of which Roth speaks was typified by Tarantino, who - first with Reservoir Dogs in 1992, and then with Pulp Fiction two years later - blazed a trail for distinctive new voices that managed to combine critical acclaim with box-office success.
Those same maverick tyros are part of the establishment now - as is Archie, the suburban lawyer and father of two whom Roth portrays in Rufus Norris's Broken.
"He was such a nice guy I just wanted to be him," says the actor of the role. "I thought it would be great to be this guy for a few weeks and play around with the character."
'Gorilla in the room'
Roth, a parent himself, also enjoyed forging a relationship with Bill Milner and newcomer Eloise Laurence, the two young actors cast as Archie's children Jed and Skunk.
"We hung about and spent a lot of time creating that rapport," he reveals. "It kicked in very early on, so we could draw on that during the filming."
As Archie, Roth must deal not only with two wilful teenagers but also his neighbours - an ageing, affluent couple with a mentally unstable son, and a working-class widower whose three daughters are allowed to run riot.
Given its title, location and subject matter, are we to take Norris's film as emblematic of the "Broken Britain" to which David Cameron so memorably referred during the 2010 election?
"It does comment on the state of the country," admits Roth. "It's about what's hidden behind the door and stiff-upper-lipped people ignoring the 600lb gorilla in the room.
"But I think you could easily take the story and set it in many other countries around the world. And while there's a certain amount of social realism at play, there's also a magical quality to it."
Broken represents a change of pace for an actor better known for playing larger-than-life villains in the likes of Rob Roy, Planet of the Apes and The Incredible Hulk.
"I completely didn't care," says Roth of being typecast as a heavy. "Those guys are fun to play and they stick in people's minds.
'A very tough guy'
"As long as I felt there was something going on in the script or there was a particular challenge to be had, I was pretty much happy."
Yet Roth is nothing if not versatile. In addition to Broken he can currently be seen in cinemas in Arbitrage, playing a New York detective eager to have Richard Gere's Wall Street broker arrested for murder.
And next year he will be found in another guise - that of Prince Rainier III, the Monegasque royal who famously married Hollywood actress Grace Kelly in 1956.
That legendary 20th Century union provides the backdrop for Grace of Monaco, a biographical drama in which Nicole Kidman will play the title character.
Olivier Dahan's film is already a chaud pomme de terre, with Monaco's current monarch Albert II accusing it of dwelling on "one rewritten and needlessly glamourised page in the history of the principality".
Roth admits to being perplexed by that reaction, insisting that Kidman is "wonderful" as Grace and that the late princess's relatives will be "very pleasantly surprised".
"People don't have much of a perception about Rainier so we had a pretty free rein," he continues. "But we wanted some toughness in him because he was known to be a very tough guy.
"He was smart politically, he fought in a war and he was a very shrewd businessman. So he was an interesting character to play - with a very funny moustache."
Broken is out in the UK on 8 March. Arbitrage is now on general release in the UK and Ireland.