Danny Boyle: Olympics opener 'easier' than movie-making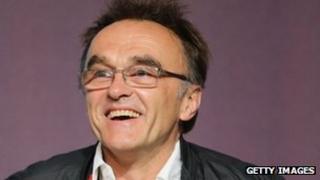 It was one of the biggest live shows of all time but Danny Boyle has admitted that directing the Olympics opening ceremony was less stressful than making a movie.
"It's weird to say this, but it's easier," Boyle said.
"A lot of people ask about the pressure of it but I didn't feel that at all."
Boyle was speaking at the Whatsonstage.com awards on Sunday where his Olympic spectacular picked up the prize for theatre event of the year.
The three-hour opening ceremony had an estimated global television audience of one billion people.
It featured a huge cast of volunteers, British celebrities and sportspeople, including David Beckham and Bradley Wiggins, screen characters Mr Bean and James Bond - and a surprise skydiving debut from the Queen.
But Boyle told the BBC that the pressure of delivering to such a huge global audience didn't phase him: "I do feel it when you do a movie or a stage show," he said. "You have sleepless nights and all that sort of stuff.
"But because this was so shared and there were so many people involved, because it was so big, there was nothing you could do about it anyway, late on.
"It was going to happen and you were just rolling it forward."
'That was alright'
The Oscar-winning director of Slumdog Millionaire added that he had been reassured by the comments of people watching the rehearsals.
"As we were getting ready, there were a lot of people who came into the stadium - like special police and workmen - who hadn't seen any of it.
"They watched bits of the show and - this is so British - they'd stop me and say 'that was alright, that' - and then they'd walk away. So I thought: 'we're going to to be okay, actually.'"
Boyle began his career in theatre, as deputy director at the Royal Court, before moving to the BBC to work as a producer.
His first feature, the low-budget 1994 movie Shallow Grave, starring Ewan McGregor and Christopher Eccleston, was a surprise hit.
His other films include Trainspotting, The Beach, Sunshine and the Oscar-nominated 127 Hours.
His next film, Trance, a psychological thriller about an art heist, starring James McAvoy, is to be released in the UK on 27 March.
When Trance's opening release date was announced last month, Boyle said: "After a mad summer with London 2012, it's great to get back to the day job; treachery and intrigue on the screen rather than behind-the-scenes!"