Mr & Mrs gameshow host Derek Batey dies aged 84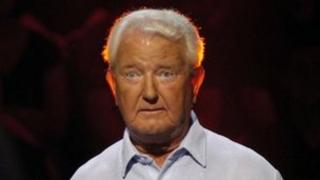 Derek Batey, host of ITV gameshow Mr & Mrs in the 1970s and 1980s, has died at the age of 84, his former employers at ITV Border Television have announced.
He died at a hospice near his home in Lytham St Annes on Sunday night, following a short illness.
Born in Brampton, Cumbria, the one-time ventriloquist started his broadcasting career with the BBC, then joined Border when it was formed in 1961.
As well as Mr & Mrs, he presented chat show Look Who's Talking.
The show had the ambitious aim of bringing the biggest stars of the day to the Border studios in Carlisle.
In all, Batey worked for Border for nearly 30 years and his passion for his home county was such that he earned the nickname "Mr Border".
Huge ratings
He had originally seen Mr & Mrs on a Canadian TV channel and decided to develop a version for Border.
The gameshow pitted married couples against each other in a quiz that tested how well they really knew their own spouse, and attracted nine million viewers during its heyday in the 1970s.
Batey presented Mr & Mrs 500 times on TV and 5,000 times on stage after developing a successful theatrical version.
Phillip Schofield, who presents the modern celebrity version of the show for ITV - on which Batey acted as a consultant - tweeted: "Very sad news. Will be thinking of him when we're next in the studio."