The Sound and the Fury: musical order out of chaos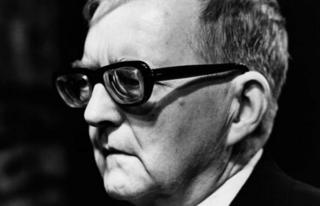 Russian composer Dmitri Shostakovich's Fifth Symphony and Quartet For The End Of Time by the French-born Olivier Messiaen are widely regarded as two of the greatest works of 20th century classical music.
In form they are very different beasts - Shostakovich's piece being a rousing orchestral powerhouse; and Messiaen's a delicate, fluttering chamber quartet with an often mournful air.
Yet they have a shared history, for both were composed against a background of life-threatening terror and stand as powerful reminders of the effect that the Second World War and the rise of totalitarianism had on the history of 20th Century music.
For the first two decades of the century, modernist composers such as Arnold Schoenberg and Anton Webern had torn up the centuries-old musical conventions of melody, harmony, and rhythm.
By the 1930s, though, their radical new forms of music were increasingly under threat. In Germany, Adolf Hitler mounted a now legendary exhibition of "Degenerate Music", effectively burying the work of, among others, Jewish composers such as Schoenberg.
In Russia, Joseph Stalin was looking to establish a nationalist Soviet identity through art and music that would effectively be propaganda. While both leaders professed to be music lovers, composers would now be expected to dance to their tune.
As Stalinism took hold, Dmitri Shostakovich was the undisputed star of Soviet classical music and a darling of the avant garde. He had enjoyed great success with his opera Lady Macbeth of Mtsensk - or at least he had, until Stalin went to see a performance of it in January 1936.
A tale of love, sex, betrayal and murder, set in the last days of the Tsars, Stalin and his entourage stormed out in disgust before the finale. In what the music critic Alex Ross has called "perhaps the most terrifying bad review in musical history", two days later an editorial appeared in the pages of Pravda which denounced the opera as "muddle instead of music" and hinted at the troubles to come if Shostakovich continued down a path of complex, occasionally dissonant, music.
Free thinker
The composer was hard at work completing his fourth symphony when he was summoned to face the Union of Soviet Composers, and warned to rein in his style. In fear for his life, he withdrew the work and instead set out to write his next.
Against a background of Show Trials and summary executions, the Fifth Symphony was premiered on 21 November 1937. It was a marked change in style for Shostakovich - a dynamic composition akin to the heroic symphonies of Beethoven, climaxing with a thunderous, anthemic final movement. It was met with similarly thunderous applause - an ovation that lasted a full half hour.
The Fifth Symphony was a triumph, yet to this day it is the subject of debate.
Had the formerly free-thinking Shostakovich bowed under pressure and in effect become an official state composer, writing in a style he knew would please the Communist regime? Or had he perhaps been making an ironic statement about Stalinism with the symphony's reference to Mussorgsky's opera Boris Godunov, which ends with a lament to Russia entitled Flow, Bitter Tears?
Either way, the rapturous reception of the work on its first night rescued his reputation.
POW camp
By contrast, Olivier Messiaen's Quartet for the End of Time had one of the most inauspicious premieres of any piece of modern classical music. It was first heard on a rainy, freezing January night in January 1941, at a prisoner-of-war camp - Stalag VIIIA - in Gorlitz, Germany, where Messiaen was interred after being captured as a French soldier during the German invasion the previous year.
The "end of time" was a reference to a phrase in the Book of Revelation, but also to the unsteady rhythms of Messiaen's composition, which follows no regular time signature or beat. Somewhat ironically, it was precisely the sort of avant-garde "degeneracy" that would have outraged the Fuhrer - yet the composer had a champion in the form of a music-loving guard at the camp, Karl-Albert Brull.
Brull found Messiaen an empty barrack in which to work and supplied him with blank music paper. The somewhat unusual orchestration of his quartet was born of necessity - the only other professional musicians in the camp were a cellist, violinist and clarinettist, with Messiaen himself on piano.
Messiaen was a man of intense religious faith and despite working in the most arduous of settings, he summoned up a masterpiece of ethereal beauty. At its core are two Louanges - literally, songs of praise.
The first of these, for piano and cello, is one of the most haunting pieces of music the century had to offer. As it sounded out, on that bitterly cold night, to a literally captive audience watched over by German prison guards, it must surely have summoned up an image of humanity and hope.
After the War ended, Messiaen became one of the most influential teachers in the history of modern classical music. Among his pupils were Karlheinz Stockhausen, who had seen unspeakable tragedy as a medical orderly during the War, and Iannis Xenakis, who had part of his face blown off during an Allied bomb attack.
Their music was brutal and confrontational - a direct, visceral response to the Hell they had been through.
Yet Messiaen, until the end of his life, continued to write music full of wonder and awe. He never lost the spirit that made his Quartet transcend the suffering and fear in which it was created.
The Sound and the Fury: A Century of Modern Music. Episode two: Free For All is broadcast on BBC Four on Tuesday 19 February at 2100 GMT.