Cheryl Cole receives front page apology from Now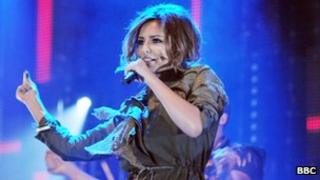 Now magazine has printed a front page apology to Cheryl Cole after it ran a false story about a relationship between the singer and MC Harvey.
The publication has admitted Cole did not exchange emails with the rapper but said he had been sending messages to a "calculated" hoaxer posing as Cole.
The Girls Aloud star has been awarded damages and legal costs.
The front cover of the latest issue reads: "Sorry Cheryl, there was no romance with Harvey - we got it wrong."
Legal proceedings began in February 2012 but were resolved last week.
Cole famously took to Twitter to deny the story of a romance with the former So Solid Crew member after the end of her marriage to footballer Ashley Cole.
When it was first published last year, she wrote: "Was this 'relationship' happening in your head @harveyofficial?"
An apology inside the magazine said the February 2012 article, which claimed she and the musician - whose real name is Michael Harvey Jr - had a secret relationship, followed hundreds of emails over a six-month period between what was thought to be MC Harvey, Cole and her mother.
"We are now satisfied that the emails from Cheryl and her mother are not genuine," the apology read.
"They appear to be the work of a calculated and meticulous hoaxer masquerading as Cheryl who went to great lengths to deceive Mr Harvey."
It continued: "What has become clear is that there was never any relationship between Cheryl and Michael and we were wrong not to accept Cheryl's denial."
Now magazine also apologised for any "embarrassment" and "upset" caused.
Following the publication of the apology, Cole posted a photo of the magazine cover on her official website, branding Now "liars" and she also wrote on Twitter: "#nowmagazine #expensivelies #muggedoff #whohaseggontheirface?"