Arts Council urged to intervene in Banksy mural sale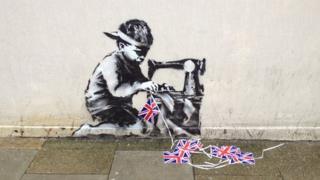 A London council has written to the Arts Council asking it to help prevent the US sale of a Banksy mural taken from a wall in its borough.
The Slave Labour image, was recently removed from the corner of Whymark Avenue in Wood Green, north London.
The artwork is scheduled to be sold in Miami on Saturday for up to £450,000.
But the Arts Council has said there is little it can do as the mural is less than 50 years old and excluded from Export Control under current rules.
"As a result, Arts Council England is unable to directly intervene in this instance," chair Sir Peter Bazalgette said.
"It is a shame that a piece of street art that is well loved by the local community has been removed for auction," he added.
Haringey Council urged the Arts Council to intervene, claiming it was "wrong" to export a piece of "local and national significance."
The image, which shows a young boy hunched over a sewing machine making Union Jack bunting, disappeared from the side of a Poundland shop.
The chain said it was not responsible for "either selling or removing the Banksy mural," saying it did not own the building.
Meanwhile, Frederic Thut - the owner of Fine Art Auctions Miami which is selling the piece - said his firm had performed "all necessary due diligence" to establish the ownership of the work.
"Unfortunately we're not able to provide any information by law and contract about the details of this consignment," he said.
The mural by the sought-after street artist appeared in Wood Green in May last year.
Haringey Council said the piece had a lot of significance to locals in the borough and questioned whether it had been taken legitimately.
"This is an area that was rocked by riots less than a year before this mural was painted, and for many in the community the painting has become a real symbol of local pride," Wood Green Councillor Alan Strickland said.
He added it caused a huge amount of excitement so "residents are understandably shocked and angry that it has been removed for private sale".
"The community feels that this art work was given to it for free, and that it should be kept in Haringey where it belongs, not sold for a fast buck," he said.
"We're determined to do what we can to bring back Banksy to Haringey."