Dan Brown: Inferno book covers revealed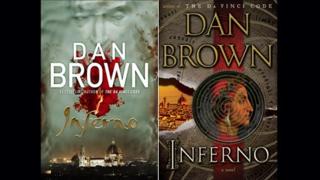 The cover jackets for Dan Brown's forthcoming book, Inferno, have been revealed by publishers.
The UK and US covers differ, however both feature an image of the Italian poet Dante - whom Brown said inspired his latest work - and are set against a background of the city of Florence.
The book is the fourth novel in the writer's series which follows Harvard symbologist Robert Langdon.
It is due for release on both sides of the Atlantic on 14 May.
His last book The Lost Symbol sold 550,000 copies in the UK in its first week on sale in 2009.
The Da Vinci Code, the second book in the series, is the UK's biggest seller since records began, with more than five million copies sold.
Inferno will see Langdon drawn into "a harrowing world centred on one of history's most enduring and mysterious literary masterpieces".
When Brown announced he was writing a new book last month, he said he was heavily influenced by Dante's Inferno, written in the 14th Century.
The epic poem follows an allegorical journey through hell, purgatory, and heaven.